June 25th 2014
Robotics Challenge Grand Final 2014
After six gruelling heats, pulverized processors, ruptured relays, severed struts and mangled motors, it was time for the Robotics Challenge Grand Final… that's Robot Wars to you and me!
Over 50 schools battled over six months with the hope of taking the title. Each Robot Challenge saw teams of students take part in a full day event starting with building their robots with the support of manufacturing employers from the North West.  Teams were then pitted against each other and the winners awarded a place in the Grand Final.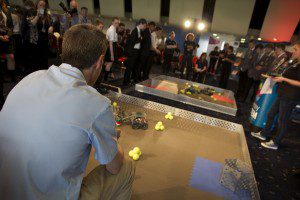 They came, they fought but on the day West Derby raised the trophy and reigned supreme! Adam Jennions , Jakub Jagielski, Jack Jones and Jack Newsham shunted sensors, whacked wheels and ground down their opponents gears with the help of Mr Mutch.
After their valiant effort, second place was awarded to St Michael's C of E High School and third, St Ambrose Barlow Catholic College.
The final presentations were compered by Michelle Dow of MerseySTEM and presented by Alan Seeley of Gertrag and Simon Reid Sector Manager – Advanced Manufacturing for the LEP.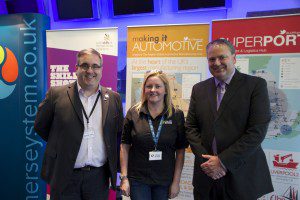 Robert Hough, Chair of Liverpool City Region LEP said: "As the City Region's economy continues to improve, more companies are facing a shortage of skilled workers, especially in Advanced Manufacturing. Now more than ever our future depends on a workforce with the necessary talents and training for the jobs of today and tomorrow, and the best way to ensure a steady supply of workers is through education."
"That is why the Robot Challenge Days have been so important; they have provided an opportunity for our young people to really engage with the possibility of working in this sector and hopefully encourage them that Advanced Manufacturing is an exciting and rewarding career."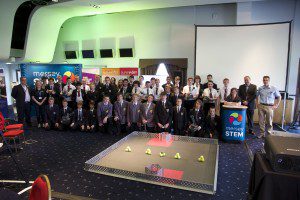 The Employment and Skills Board of the Liverpool City Region Local Enterprise Partnership (LEP) teamed up with MerseySTEM to launch the Robot Challenge Days to promote engineering and technology among young people. The event took place at Aintree Racecourse as part of the International Festival for Business, taking place in June and July 2014. The day was also supported by STEM Ambassadors Adelle Astle, Steve Nash & Brian Turner from INEOS.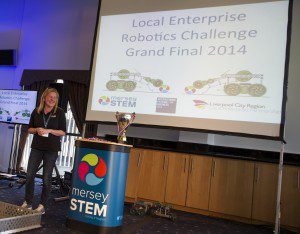 Michelle Dow, Managing Director of MerseySTEM, the company responsible for pulling the Challenge together said, "I love to see the kids getting stuck in with the robots and watching the dynamics of the teams when leaders start to be decided and some real engineering decisions start to get made. It can be hard work getting a group of 14 year olds excited in the morning but once the robot kits come out and they get their hands on screws, cogs, wheels and metal rods, you can almost see the lightbulb moment when they get it."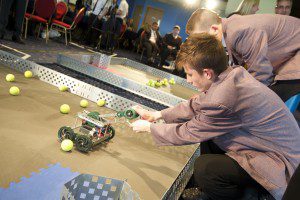 "I love that we don't see their faces for most of the morning as they are heads down, focused on building the best robot on the day. Questions come thick and fast: What do I do with this? How does this work? Can this be my own design? If you ask a 14 year old what advanced manufacturing or engineering is, usually the answer is 'Er dunno – a mechanic?"
"The robot day gives us the opportunity to change perceptions, challenge stereotypes, promote teamwork, provide careers advice to students from our city, all by using real role-models from our city. Robot Wars are nothing new, but whatever you say – robots are cool!"
Want to get involved? Click here for MerseySTEM's future events…
Don't miss The Big Bang North West, book your school group now!
Follow MerseySTEM on Twitter here
Follow The Big Bang North West on Twitter here
Like MerseySTEM on Facebook
« Back To News