July 03rd 2014
Big Bang Day: St Bede's College
Our own Dr Liz Hind visited St Bede's College last week for their Big Bang Day. It sounds like she had just as much fun as the children!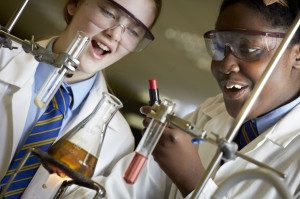 "It was a great event attended by other schools in the area as well as several year groups from St Bedes. We were treated to a show about the genetics of super heroes from Simon Watt from Channel 4's Inside Nature's Giants. There were loads of employers there to talk about what they do, particularly lots of different types of engineer, from big structures to chemical engineering.
We also got to see a great display of work from St Bede's pupils including a working model of a pulsar and a demonstration of what happens if you
have asthma.
Well done to the staff at St Bede's! MerseySTEM are looking forward to working with you to make it even bigger next year."
Take a look at our Big Bang Day at Fazakerley High School here
Contact MerseySTEM for more information on our Big Bang School Days
Just 5 days to go until The Big Bang North West, book your school group now – IT'S FREE!
Follow MerseySTEM on Twitter here
Follow The Big Bang North West on Twitter here
Like MerseySTEM on Facebook
Win an iPad or VEX IQ Robot Kit here!
« Back To News