July 03rd 2014
Big Bang North West – 5 days to go!
We've 5 days to go and it's still not too late to book your class or school group for The Big Bang North West!
Everything is in place, the exhibitors are raring to go and we're all packed and ready for Aintree Racecourse. What an amazing event this is going to be!
Our Big Bang Backpacks have just arrived and they're sponsored by… Mersey STEM! That's right, a special gift from us to you. All of our attendees will bag themselves one for all their Big Bang info and goodies – that means you kids!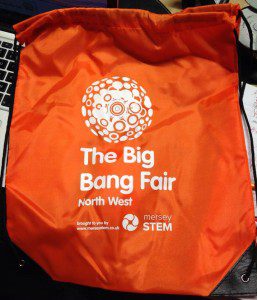 Don't forget to keep your eye out for our 'Orange-aides' at the event (it made us giggle too!).
All of our team members will be wearing one of these jaunty little numbers and are there to help you on the day. With so many amazing activities taking place and close to 3000 children, it's important we stand out… thankfully you won't be able to miss us.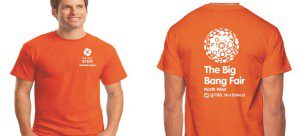 And finally… the BIG REVEAL! For all of our Twitter followers we have our own hashtag for the event #BigBangNW

Our Media Manager Selena (ooh that's me!) will be covering The Big Bang North West live on Twitter and Facebook. We've a Twitter Wall and screens throughout the venue, so you'll be able to see your tweets using our hashtag as well as updates, information and photos. It just gets better and better doesn't it? We can't wait till Tuesday!

Just 5 days to go until The Big Bang North West, book your school group now – IT'S FREE!
The winner of our STEM-SATIONAL Competition will be announced at The Big Bang North West, there's still time to enter here
Follow MerseySTEM on Twitter here
Follow The Big Bang North West on Twitter here
Like MerseySTEM on Facebook
« Back To News