August 12th 2014
STEMNET: Training videos for STEM Ambassadors
New STEM Ambassador videos launched!
STEMNET and education specialists EdComs have developed a series of seven videos showing STEM Ambassadors delivering activities in schools.
The videos are designed to give you as STEM Ambassadors a picture of what is involved in supporting an activity. They were developed in response to feedback from STEM Ambassadors who were keen to accompany an experienced STEM Ambassador on an activity to see how it all happens; this isn't always possible, but we hope that the videos will be a useful alternative.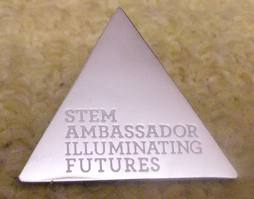 The videos are:
STEM Ambassador: Louise Dennis
STEM Ambassador: Bill Ellis
STEM Ambassador: Marcia Philbin
STEM Ambassador: Mike Baldwin
STEM Ambassador: Tina Patel
STEM Ambassador: Jaime Pinnell
STEM Ambassador: Emma Shanks
The videos can be found on STEMNET's new training and support web pages for STEM Ambassadors. These pages aim to provide you with additional support during your time as a STEM Ambassador. As well as the videos, they contain information on training offers and guidance on working with schools.
Click here to find out more about our Ambassador Programme
Many of our Ambassadors promote STEM during our larger events too, The Big Bang North West is one example.
Relive The Big Bang North West here
Follow MerseySTEM on Twitter here
Follow The Big Bang North West on Twitter here
Like MerseySTEM on Facebook
« Back To News