November 20th 2014
Freebie: Build Your Own Tardis!
To celebrate Tardis Tim becoming our own in-house Dr Who, we've found a fantastic freebie for all our visitors!
We're all for combining the arts with STEM (it's called STEAM you know)… so thanks to the awesome designer CyberDroid at DeviantART you can bounce from time-zone to time-zone just like our Tim.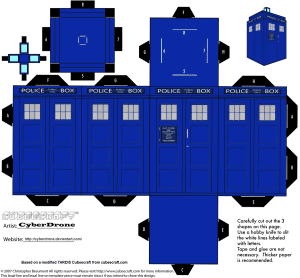 We've set Tim the challenge in the office today and we'll post his Tardis shortly…
Click here to download the net from the net and get building!
(Download button is on the right)

Tweet us @MerseySTEM with photos of you and your Tardis or post them on Facebook, we can't wait to see them.
Are you coming to The Big Bang North West? Over 1000 places have already gone.
Register your interest for The Big Bang North West 2015!
Follow MerseySTEM on Twitter here
Follow The Big Bang North West on Twitter here
Like MerseySTEM on Facebook
« Back To News