December 14th 2014
THE BIG BANG NORTH WEST 2015: TWO DAYS TILL LAUNCH!
That's right (insert squeals of excitement here!).
After our amazing event at Aintree in July, we're almost ready to launch The Big Bang North West 2015!
The question is, who will be our headline sponsor and what STEM-sational shows and exciting exhibits will we have for you this time?

Just TWO DAYS until the big BIG BANG reveal! Don't miss it!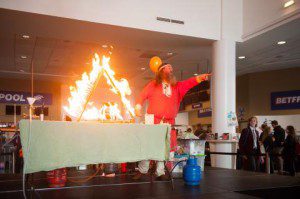 On the 8th of July 2014 we welcomed 3000 Primary and Secondary School children to Aintree Racecourse in Liverpool. All of our attendees bagged a multitude of freebies in their MerseySTEM sponsored 'Big Bang Backpacks' and all had the opportunity to hop in a Viking longboat loaded with weaponry, race against Usain Bolt, jump on a Zoo Bus, witness a FIRE TORNADO… and so much more!
Creating their own apps, live science shows, robots, juggling mathematicians, nuclear power, medical demonstrations, forensic science, racing cars, mechanical spiders, even farming and football… you name it, they got to experience it.
The Big Bang North West is FREE to attend and promotes STEM (Science, Technology, Engineering and Maths) via hands on learning, fun and excitement. We don't want any child to miss it.
Contact [email protected] with your school name and group size to express your interest. We'll contact you with further details.
Don't forget, we're also hosting Big Bang School Days throughout the year which can be tailored to a subject, theme or specific year group.
Contact us for further details.

What Teacher's thought of The Big Bang North West…

Follow MerseySTEM on Twitter here
Follow The Big Bang North West on Twitter here
Like MerseySTEM on Facebook
Images © MerseySTEM: Courtesy of Brian Roberts and Selena Ledgerton
« Back To News