January 22nd 2015
Big Bang North West 2015: National Geographic's Dr Leahy & ZooBus confirmed!
We are overjoyed to confirm that National Geographic's Dr Mike Leahy will be back for The Big Bang North West 2015. He'll be arriving in his (now legendary) ZooBus and exhibiting his marvellous menagerie of reptiles, insects and arachnids!
Dr Mike worked with the New Zealand production company Natural History New Zealand for eighteen months in order to complete his exciting TV series for National Geographic / Travel Channel TV. It is currently being aired world-wide.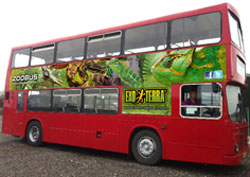 The ZooBus is Dr Mike's crowning glory. Drawing from his experiences in the wildest parts of the world, both as a research scientist and TV presenter, he's combined his passion for conservation and environmental issues and took them on the road.
The ZooBus is both an educational tool and a place for fun. Downstairs is a collection of fascinating animals (many of which can be handled), while upstairs is an animal handing area and 'mini-micro lab' where images from microscopes can be blown up onto a 46 inch screen!
The ZooBus was one of the highlights of The Big Bang North West 2014 and all of the children loved it! We can't wait to welcome Dr Mike back and check out his new additions… and check in with George the Golden Crested Gecko of course!
Grab your school group places via the link below, you don't want to miss this!
THE BIG BANG NORTH WEST 2015 IS COMING!
Register your interest for The Big Bang North West 2015!
Follow MerseySTEM on Twitter here
Follow The Big Bang North West on Twitter here
Like MerseySTEM on Facebook
« Back To News