March 16th 2015
STEM Ambassadors: What's your story?
We were overjoyed to see these amazing STEM Storyboards at our AstraZeneca Parent and Student Open Evening!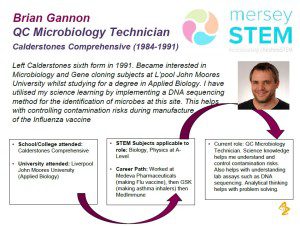 Each board gave a round up of experience, knowledge and ability… everything a school needs to know.

They were an awesome way for all of our visitors to see just what a STEM Ambassador can offer!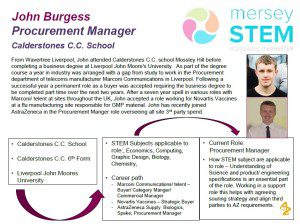 So what's your story? Are you a STEM Ambassador or would you like to be? This is one way you can highlight your skills to teachers, parents and organisations during our upcoming STEM Hubs and events. Contact us if you would like us to spotlight you or sign you up.
You can find out more about being a STEM Ambassador here… inspire young minds and really make a difference!
Take a closer look at our storyboards below:
BRIAN GANNON STEM STORYBOARD
HANNAH WILSON STEM STORYBOARD
JOHN BURGESS STEM STORYBOARD
THE BIG BANG NORTH WEST 2015 – CLICK TO BOOK YOUR PLACES!
Follow MerseySTEM on Twitter here
Follow The Big Bang North West on Twitter here
Like MerseySTEM on Facebook
« Back To News