May 29th 2015
NAC Group: Your class can recreate Formula One cars with 3D printers!
12 Year 9 students from Deyes High School put their STEM skills to the test by designing and manufacturing miniature F1 cars. Could you be the next Lewis Hamilton? Your class could be 3D printing too!
Industrial Cadets* is a scheme created by NAC Group, an automotive training company, to raise awareness for growing opportunities in the engineering industry.
Students taking part in the programme have the chance to use state of the art 3D printers to make their vehicles and race them against each other.
The visiting group from Deyes revelled in the experience: "The event has really opened my eyes to the industry. Before I thought that engineering was something you had to get your hands dirty to do, but it is more technical than that.
My favourite part of the scheme was the manufacturing part as it was great to see our design made exactly how we had planned."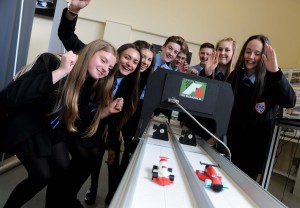 Take a look at The Liverpool Echo's coverage of the event…
For more information on Industrial Cadets and their initiatives visit here…
NAC Group are attending the Big Bang North West 2015!
Have you booked your school group yet?
THE BIG BANG NORTH WEST 2015 IS COMING – BOOK NOW!
Follow MerseySTEM on Twitter here
Follow The Big Bang North West on Twitter here
Like MerseySTEM on Facebook
*The Industrial Cadets title is part of the Prince Charles initiative and the organisation accredit NAC Group's programme to silver award level. NAC Group designed the F1 5-day programme with the initiative in mind using the wording 'Industrial Cadets' as part of their the programme title.
« Back To News