May 01st 2015
STAR STEM Ambassador: Alfie Neild!
It's not just Team All About STEM who 'make it happen', our sensational STEM Ambassadors visit schools and events for FREE to support learning, teach workshops and pass on their amazing experiences. 
Every month we're going to be highlighting one of our STEM Stars (there are many) and our first is by far one of our most dedicated… Alfie Neild!
Alfie began his career in 1961 in the ICI main mechanical engineering workshop, working as a labourer on heavy chemical plant repairs. By 1962 he'd caught the engineering bug and was asked to train as an Indentured mechanical engineering fitter/turner.
After 5 years of hard graft on heavy chemical plant maintenance, compressors, liquefiers, distillation stacks, furnaces and chemical reactors, he earned the title of Mechanical Engineering Technician and landed a fascinating post at Daresbury Nuclear Physics Research Laboratory. There Alfie was responsible for maintaining the labs synchrotron and cooling systems, completing nuclear physics experiments and being part of a team who constructed the largest Van der Graaf generator in the world!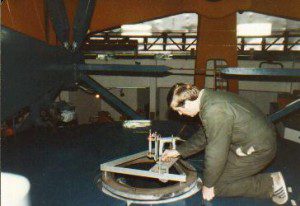 He even knows the guys from The Sky at Night! Can you spot Patrick Moore?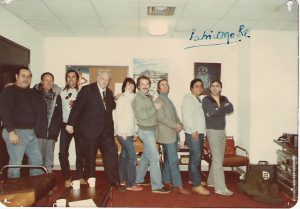 In 1975 Alfie married his lovely wife Andrea and they had two beautiful children in Hawaii (he's always the first to smile and say Aloha).
Married life made him all the more keen to fly higher and within 2 years he'd flown to Edinburgh's Royal Observatory as their Telescope Engineer.  While there he helped construct the United Kingdom Infra Red Telescope in Sheffield before jetting off to Hilo Hawaii to work in telescope construction and design for the UKIRT group.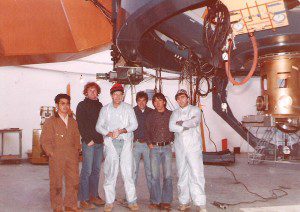 From 1985 onwards Alfie was based at Daresbury Synchrotron Light Research laboratory. By this point he was manager of the X-Ray diffraction mechanical workshop, running and maintaining the Synchrotron X-Ray Beam lines and seven experimental stations.
His main responsibility was working on the design and construction of ground breaking experimental laboratory equipment now used around the world.
Since leaving Daresbury, Alfie has worked as an engineering consultant on the design of pharmaceutical experimental equipment for Sheffield University and the design and upgrades of the diamond anvil high pressure cells for Innsbruck University, Austria… not to mention being one of our longest serving STEM Ambassadors!
As a STEM Ambassador Alfie offers a plethora of presentations and interactive activities on Weather Formations, Renewable Energy, Mechanical Engineering Designs, Our Solar System, Space & Time, Friction Experiments, Solids, Liquids and Gases, Volcanoes, Forces and more!
Alfie always returns to schools that he visits as he is both personable and down to earth, with a gift for passing on his knowledge in a way that young people enjoy. His sense of humour speaks volumes!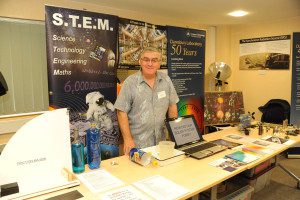 Our first highlighted STEM Ambassador also offers a 'meet the professional' workshop so he can discuss his career and inspire and excite young people about a career in engineering, where it can take them and what they can achieve.
In short, he's awesome. Congratulations Alfie, we hope to continue working with you for many years to come!
Could you be our next STAR STEM Ambassador?
You can find out more about becoming a STEM Ambassador or requesting one for your school here. You really can make a difference and help inspire the thinkers of the future… just like Alfie!

The Big Bang North West: Express your interest for our 2017 event!
Official Gallery: Thousands of children inspired at The Big Bang North West 2016!
The Big Bang North West 2016 Gallery: BBNW LIVE TWITTER 'TRENDING' NATIONALLY!
Headline Sponsors AstraZeneca 'Heat Up' The Big Bang North West
The Big Bang North West 2016: Booming Online!
The Big Bang North West 2016: Your Amazing Feedback!
The Big Bang North West 2016: A Teacher's View

Follow All About STEM on Twitter here
Like All About STEM on Facebook
Follow The Big Bang North West on Twitter here
Like The Big Bang North West on Facebook
« Back To News