June 03rd 2015
Being a STEM Ambassador: Roger Todd
Roger Todd is an amazing STEM Ambassador who is currently working with Queens Park High School on their National Science + Engineering Competition entries. What makes a great STEM Ambassador? We took a look back with Roger…
"I have been a Stem Ambassador about six years and have enjoyed every minute. I am also a Schools Liaison Office for the IET and both roles go together very well. My patch is the Chester area and I have interfaced with three secondary schools mainly with STEM clubs. This has enable me to meet, besides the Secondary school children, some Primary school children. Unfortunately I have not been able to establish links with the local Primary schools but still early days.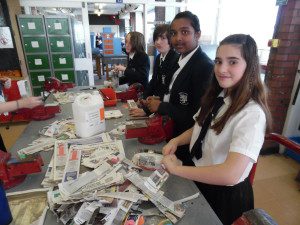 I am currently helping with two STEM clubs at Queens Park High school (QPH) in Chester. The two clubs are quite different. One is with older students where I am going through the principles of programming a small microprocessor with the aim of the students building a device that they can claim they have not only made but programmed. The final devices is expected to be a timer which could do anything from acting as a minute timer to a count down/up timer. The actual function being up to the students. The important thing is that they produce a proper design before we start to build the device. This is work in progress and we are currently at the design stage.
The other club is with younger students who are going to enter a project for the Big Bang that takes place later this year. Their project is to build a boat. The aim is really to look at up-cycling materials and in the process examine, materials to build a hull, propulsion methods and power sources. This is proving interesting to students, teachers and me as imaginations start to investigate the problem. I look forward to seeing their completed project.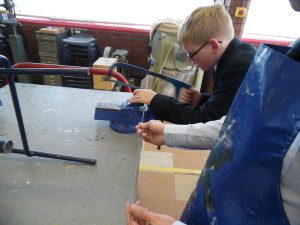 Previously I had acted as a Mentor to teams at the Chester Catholic High school who were competing in the Jaguar Landrover challenge to build an off-road buggy and compete in a trial at Halewood. They did extremely well with one team going on to win the finals at the ExCel arena in London. I was please to have helped in a small way. I hope that QPH would perhaps take up the challenge as the Catholic High are no longer competing in this event. I would be please to again act as a mentor.
The above are just a few of the activities I have been pleased to become engaged in as a STEM Ambassador. My philosophy is that I am an experienced Professional Engineer who has had a great career and built up a store of engineering knowledge that I would like to pass on to the younger generation and in the process enjoy the work. So far I have not been disappointed and would certainly recommend the role of STEM Ambassador to anyone with STEM qualifications.
Being a STEM Ambassador? That is really 4F 4B with me. (ASCII code for OK – hope my microprocessor students read this!)"
Roger Todd IEng FIET
STEM Ambassador,
IET Schools Liaison Officer
Would you like to become a STEM Ambassador? Click here…
Request a STEM Ambassador to visit your school…
If you have a STEM Club, you could enlist the help of a STEM Ambassador for next year's National Science + Engineering Competition. Contact [email protected] for more…
If you have a project you would like to enter in this year's National Science + Engineering Competition, it's still not too late! Click here…
Is your school coming to The Big Bang North West 2015?
THE BIG BANG NORTH WEST 2015 – CLICK TO BOOK YOUR PLACES!
Follow MerseySTEM on Twitter here
Follow The Big Bang North West on Twitter here
Like MerseySTEM on Facebook
« Back To News