July 02nd 2015
Inside Engineering: Victoria Madden – Teaching Industrial Partners' Scheme with Carillion
Victoria Madden, a teacher at Beamont Collegiate Academy was selected to take part in the Teaching Industrial Partners' Scheme (TIPS) with Carillion.
As a HUGE engineering fan and a member of staff at MerseySTEM's STEM Spotlight School, Victoria will be keeping us up-to-date on her two week adventure. Carillion are a HUGE engineering firm, what a fantastic experience and a great way to inspire her pupils!
The Beginning…
"So today I embarked on my first Day on my TIPS at Carillion in Manchester.  This scheme aims to give Teachers a 'real life' insight into a modern STEM business. These experiences and contacts made during the scheme can then be used to enhance learning experiences, improve knowledge of qualifications and careers in the STEM world and build links between employers and schools.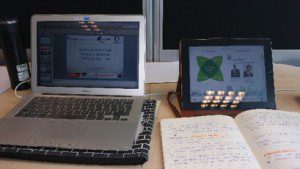 Carillion is a Construction and Services providing company who has a Services annual turnover of £1.2b and employs over 13000 people!
Today, myself and my colleague from Manchester College; Leona So got to grips with the workings of a huge business. Getting time to interview employees in different parts of the Life Cycle of a Job – a job being a 'problem that needs solving' by Carillion by one or many of their talented engineers.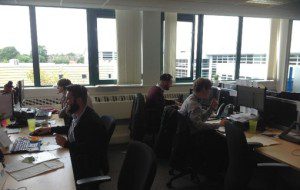 This is Dan and the 'West' team – they receive prioritised 'Jobs' and must organise the mobile engineers out and about in the field, with the correct skills, to get to the jobs in time to meet Service Level Agreements (SLA's).
It was a hive of activity; with non stop phone calls, emails and interaction with engineers, even via their android phone app which logs and records job progress. Dan and the rest of his team require excellent communication skills, they also need to be critical thinkers and good at solving problems! They also have a great understanding of the work the engineers are able to carry out in order to get the right person to the right job."
More from Victoria soon…
Is your school coming to The Big Bang North West? There's less than a week to go!
THE BIG BANG NORTH WEST 2015 – CLICK TO BOOK YOUR PLACES!
Follow MerseySTEM on Twitter here
Follow The Big Bang North West on Twitter here
Like MerseySTEM on Facebook
« Back To News