September 03rd 2015
CALLING ALL SCHOOLS: Are you STEM savvy? We can help – IT'S FREE!
MerseySTEM are all about facilitating and promoting STEM and we have an incredible team that are here to help with your school's STEM provision. Be it Science, Technology, Engineering or Maths, we're the ones to call.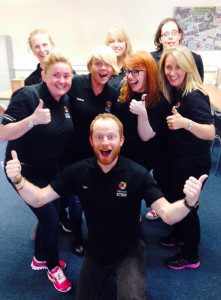 ​​
You may want to start a STEM Club, need an Ambassador to inspire your class, want to attend The Big Bang North West or get involved in our Robot Wars!
It may be that you have funding and would like to host a bespoke event or STEM day at your school but don't know where to start.
Perhaps you're looking for ideas, information and resources or you would like your school to take part in our numerous FREE STEM events.
Then there's only one place to start!
Email our School Liaison Zoe Chapman via [email protected] to book a visit and discuss everything MerseySTEM can do for you – it's FREE!
…and yes, that is Zoe with star of The Gadget Show Dallas Campbell, she really does know everyone! Get in touch, get involved and get STEM inspired, your school could be our next STEM Spotlight!
The Big Bang North West 2015: A Teacher's View…
Relive The Big Bang North West 2015 in pictures…

Follow MerseySTEM on Twitter here
Follow The Big Bang North West on Twitter here
Like MerseySTEM on Facebook
« Back To News