September 28th 2015
ICE Bridge to Schools Project: A STEM Ambassador's View
Here at MerseySTEM we were honoured to attend the ICE Bridge to Schools launch as a partnering organisation. We have just received this  fantastic report from one of our amazing STEM Ambassadors and we had to share it. It epitomises the inspirational work of the project and the enthusiasm and dedication of our professional volunteers.
On 23rd September 2015, I attended the ICE North West's official launch of Bridge to Schools at the Catalyst Science Discovery Centre in Liverpool. Bridge to Schools is a 13m long, 2.8m high cable stayed bridge that school children will have the opportunity to build, either at the Catalyst Centre or in their own school.
It is no secret that there is a real shortfall in skills within engineering, and without many more young people pursuing a career in engineering this skill shortage will only get worse over the next few years. For many young people, there is still the perception that engineering is about engines (not always true), that it is a dirty, outdoors job (not always true), that it is a job for a man (definitely not true!) or that you have to be some breed of mathematical genius to do it (this is not true!)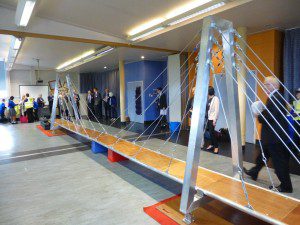 Bridge to Schools is a 13m long, 2.8m high cable stayed bridge for children to construct
Bridge to Schools is a brilliant piece of kit that generates excitement about engineering for young people, although I'm 23 and I think I was the most excited person in the room! I'd heard about the ICE's Bridge to School projects before, but until you actually see it constructed, it is hard to gauge how big and impressive it is. At the launch event, pupils from the Widnes Academy had constructed the bridge, and in the sea of small people in hard hats and hi-vis jackets there was not one of them who wasn't smiling and having fun. Hearing the pupils answering questions about civil engineering was a particularly lovely part of the launch. The Catalyst Science Discovery Centre is an ideal location to home the bridge as it neighbours the site for the new Mersey Gateway Bridge, and Catalyst provides spectacular viewing space to witness civil engineering in action!
The Bridge to School is not just about creating excitement and interest in engineering, it encourages development of other key skills, such as team work, communication and problem solving. All of the children were given roles in the construction process. Not only a fantastic way to ensure that 30+ children don't all rush in at once, it teaches children how many different people are needed in a construction project, the need to work in a logical order and have respect for one another. By being given a role, children come away feeling that their involvement has played an important part in the end result.
Civil engineering encompasses a wide range of roles and for large projects, such as a bridge, there are so many teams involved throughout the feasibility studies, design, construction, maintenance and demolition; by showing children the range of roles on the small scale construction, hopefully they will understand that a whole range of skills is needed and engineering teams have lots of different types of people. You don't need to be a maths prodigy, you don't need to be Einstein II, you don't need to have some form of elite management skills. There is something for everyone in engineering!
The construction workforce are allocated roles on the job, just like on a real project
The Bridge to Schools is an incredibly fun way to learn and will give boys and girls alike the confidence boost that they can be an engineer, because they have just been part of a team that built a bridge! Pretty awesome, right?! It is activities like the bridge that is different to a normal school day that will hopefully stand out in the children's minds as they progress through school so when it comes to choosing GCSEs, 'A' levels and degrees, they may remember that engineering is fun and they can do it!
I certainly wish this was something that was available when I was at school and I hope that many children in the North West benefit from it. Even if these children never want to do anything in engineering ever again, raising awareness of engineering at a younger age and getting them talking about it can only be a good thing! This bridge could be the boost to inspire the engineers of tomorrow and help to produce the future civil engineers in the North West, which would be absolutely fantastic! Perhaps in a few years' time, the children from the Widnes Academy who attended the visit today will be working on the next big projects in the area.
I am really looking forward to working with schools to see the bridge during the construction process, and I would encourage other STEM ambassadors to get involved. Walking along it is really fun!
Joanna Anderson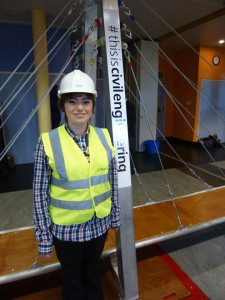 Walking along the bridge is really fun! #thisiscivilengineering
Would you like to become a STEM Ambassador and inspire the thinkers of the future? Click here…
The Big Bang North West 2015: A Teacher's View…
Relive The Big Bang North West 2015 in pictures…

Follow MerseySTEM on Twitter here
Follow The Big Bang North West on Twitter here
Like MerseySTEM on Facebook
« Back To News