October 14th 2015
Moths! MerseySTEM Project Manager visits Hope Academy
MerseySTEM Project Manager Zoe Chapman, got more than she bargained for on a recent visit to Hope Academy. She arrived to advise on all of our STEM-sational services and events but later she just couldn't resist taking a peek at the Academy's new arrivals!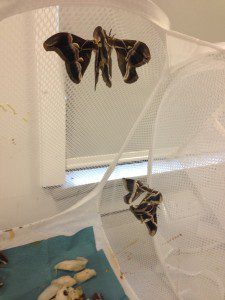 Zoe said, "I was amazed how huge they were! They were given cocoons and they're looking after them in school so that the students can learn about the life cycle. They have some cocoons left, along with adults that have emerged from the cocoons and eggs from the mating adults. They were beautiful and fascinating!"
Shelley Jones is both a biologist and teacher at Hope Academy. She believes that insects, animals and plants are an essential part of learning – and we're right behind her. Not many will know this, but our Managing Director Michelle Dow has raised a few of these beauties herself!
I wonder if STEM House will become STEM 'butterfly' House?
Are you STEM savvy? Email  [email protected] to book your school visit and discuss everything MerseySTEM can do for you – it's FREE! Click here for further information…

Follow MerseySTEM on Twitter here
Follow The Big Bang North West on Twitter here
Like MerseySTEM on Facebook
« Back To News