February 18th 2016
Ofsted Good Practice: Sandbach High School 'Encouraging girls into STEM-related careers'
MerseySTEM are overjoyed that Sandbach High School and Sixth Form College have been commended by Ofsted for good practice in STEM!
'Sandbach is an 11–18 years girls' school, committed to nurturing talent, realising potential and encouraging participation across all aspects of the curriculum.'
MerseySTEM are proud to work with Sandbach High directly, they have inspirational staff, keen, inquisitive pupils and an amazing STEM Club! Along with attending our STEM events (including our Robotics Challenges), the girls won two awards at the National Science + Engineering Competition at the Big Bang North West 2015 and will be representing the region in March at the national Big Bang Fair in Birmingham.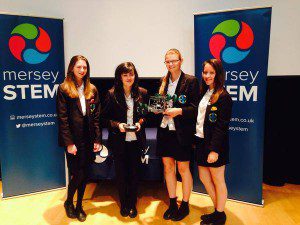 The Ofsted good practice example shows how the school encourages girls to pursue non-stereotypical careers as those in STEM-related areas.
It states: 'The school seeks to achieve its high aspirations for the girls through: strong careers education, information, advice and guidance; meaningful work experience; a wide range of extra-curricular activities; competitions; and a celebration of girls' contribution to STEM activities. The school also seeks to increase girls' participation in the sciences and technical subjects including: chemistry, biology, mathematics, physics, computer science, textiles and food engineering.'
Congratulations and well done from Team MerseySTEM!
Read Ofsted's Good Practice Example here
Sandbach High at The Big Bang North West: National Science + Engineering Competition
ENTER THE NATIONAL SCIENCE + ENGINEERING COMPETITION HERE!
The closing date for projects to be entered is 6 May 2016
Places are limited, please register your projects and book your place as soon as possible.
THE BIG BANG NORTH WEST 2016!
Booking is now OPEN! You can choose to attend the morning or afternoon session. National Science + Engineering Competition entrants will need to book a morning slot as you will need to attend the whole day.
CLICK TO BOOK YOUR SCHOOL GROUP…
YOU DON'T WANT YOUR SCHOOL TO MISS THIS!
« Back To News