February 23rd 2016
Speak to Tim Peake! British astronaut answers your students' questions from the ISS…
To celebrate British Science Week 2016, STEMNET and the UK Space Agency are offering students who engage with a STEM Ambassador the chance to submit questions to Tim Peake on board the International Space Station (ISS).
Tim Peake is the European Space Agency's first British astronaut and is currently engaged in the 6-month Principia mission to the ISS. Alongside the mission's vital scientific work, Tim has agreed to set aside some time to provide answers to selected questions from the next generation of budding scientists, engineers and astronauts.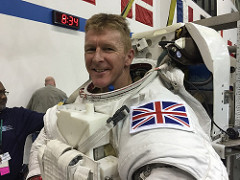 Questions will be gathered by STEM Ambassadors during their voluntary activities at schools. The top three from each activity will be collected by STEMNET and a selection of the best questions will be sent to the UK Space Agency for transmission to the ISS. Those lucky students who ask the most interesting questions will receive a video response from space!
How can my school take part?
Invite in a STEM Ambassador to your school during British Science Week.
This could be for any kind of activity – an assembly talk, a workshop, a visit to one of your STEM Clubs and doesn't necessarily have to be related to space (although it would be great if it was!). If you've never requested a STEM Ambassador before, get in touch with your local STEMNET contact to find out how.
Give the STEM Ambassador your students' questions
You could collect the questions in advance of the STEM Ambassador's visit, or you might ask students to come up with questions during the STEM Ambassador's activity. All questions should also record the student's name, age and school.
Ask the STEM Ambassador to submit the questions to STEMNET
The STEM Ambassador will select the best three questions they gathered during the school activity and then submit them to STEMNET via this online form – http://goo.gl/forms/G6jK6LqQWS
When is the deadline?
The deadline for questions to be submitted is 5pm on Tuesday 22 March.
What kind of questions can students ask?
There are no restrictions on the types of question students can submit, but obviously the more interesting they are the better! Remind your students that Tim is asked about how astronauts use the toilet in space on a daily basis (and he has answered it here) so more original questions have a greater chance of being answered. Also bear in mind that Tim's response will be in video form, so a question whose answer involves something visual also has a higher chance of being selected.
How will I know if my student's question has been answered?
Obviously Tim won't be able to answer all of the questions submitted – he's a very busy man! However if your student's question is lucky enough to be selected then STEMNET will inform the STEM Ambassador you engaged with during your activity. All of the video responses will also be featured on the STEMNET website (www.stemnet.org.uk) and UK Space Agency website (www.principa.org.uk).
Invite a STEM Ambassador to your school, this is going to be amazing! Click here…
Please note: Any STEM Ambassador taking part in any activity between now and the deadline of March 22nd is eligible to take part.
THE BIG BANG NORTH WEST 2016 IS COMING:
Don't let your school miss out!
Click here to book…
Follow MerseySTEM on Twitter here
Follow The Big Bang North West on Twitter here
Like MerseySTEM on Facebook
« Back To News