March 24th 2016
National Science + Engineering Competition: Holly Lodge win Crest Award Prize!
Olivia impressed the judges with her ability to clearly and concisely communicate her research project and to show her enthusiasm in STEM. Her project concerned the development of antibiotic resistance of Bacteria in washing machines.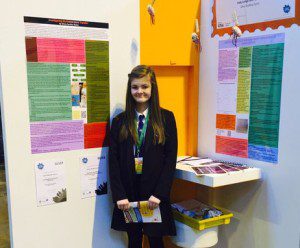 Olivia carried out a piece of research into horizontal gene transfer in E.coli. This is one of the avenues bacteria have for developing antibiotic resistance. Olivia showed that they are able to do their horizontal gene transfer in temperatures up to 60oC. She then went on to show that the bacteria were able to survive in range of different concentrations of Biological and non-biological washing powders. Her research suggests that to help slow down the development of antibiotic resistant bacteria we should be using higher concentrations of detergent and higher temperatures in our washing machines.
"We are very proud of the dedication and hard work Olivia put into her project and delighted for her recognition and chance to meet the celebrity judges at the National Science and Engineering Competition." – Colin Riddell, Holly Lodge Girl's College.
As are we Colin and how fantastic to meet Helen Sharman, Ben Miller and Dr Emily Grossman! Congratulations to Olivia on her amazing achievement from Team MerseySTEM!
Take a look at Olivia's NSECUK slideshow…
Have you entered the National Science + Engineering Competition? You could be showcasing your work at The Big Bang North West 2016! Click here for more…
« Back To News