March 31st 2016
The Big Bang North West 2016: The Science2U Show – GREAT BALLS OF FIRE!
IT'S OFFICIAL! Science2U are returning for The Big Bang North West 2016 and their performances are going to be their biggest and best ever! They'll be making some BIG BANGS of their own this year with their 'GREAT BALLS OF FIRE' show!
The show features:
The amazing disappearing gel balls
Rocket fuelled whoosh bottles
A dry ice spectacular
…and GREAT BALLS OF FLAME!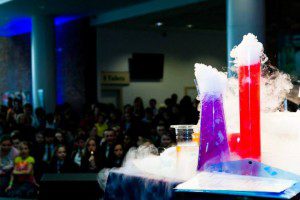 Science 2 U have been running their shows and workshops for over 4 years across the North West. Helen is a professional science presenter and Sue has been a qualified teacher for 20 years. The team ran the Education and Enrichment Programme at Catalyst Science Discovery Centre for 6 years before setting up Science2U and have since shared their passion for science and fun with more than 300,000 people!
THE BIG BANG NORTH WEST 2016!
Booking is now OPEN! You can choose to attend the morning or afternoon session. National Science + Engineering Competition entrants will need to book a morning slot as you will need to attend the whole day.
CLICK TO BOOK YOUR SCHOOL GROUP…
YOU DON'T WANT YOUR SCHOOL TO MISS THIS!
ENTER THE NATIONAL SCIENCE + ENGINEERING COMPETITION HERE!
The closing date for projects to be entered is 6 May 2016
Places are limited, please register your projects and book your place as soon as possible.
« Back To News