April 21st 2016
The Big Bang North West 2016: The IET – Lights Alive!
We are excited to announce that The Institution of Engineering and Technology will be dazzling our visitors at The Big Bang North West with their Lights Alive stand – there'll be sparks flying too!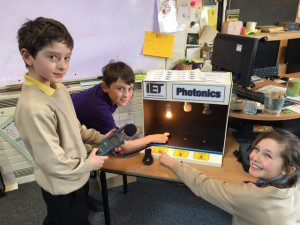 The IET is working to engineer a better world by inspiring, informing and influencing our members, engineers and technicians, and all those who are touched by, or touch, the work of engineers… along with engineers of the future!
The IET at The Big Bang North West
You can look forward to:
1. The IET's famous 'Build your own LED torch' activity – a favourite of everyone!
2. The Light Quiz – There will be 10 questions about light, get 8 or more correct and win a prize!
3. Experiment: How to turn 5vdc to 10,000vdc! You will have the chance to hold your finger in the spark gap… (don't worry, it's not dangerous – but it is exciting!)
4. Volt Videos! What 100,000 volts does to a melon and 100,000 volt caged man.
5. Demonstrations and new inventions
6. Careers advice and freebie giveaways!
"As IET members we are passionate about our profession and want to let the younger generation know that it can be a brilliant career. As well as our interactive activities, we will have IET volunteers at The Big Bang North West who will be able to answer questions on Engineering. I will be operating as a Judge for The National Science + Engineering Competition but will also be visiting the stand. See you all there!"
Don't miss out, book your school group now…
THE BIG BANG NORTH WEST 2016!
Booking is now OPEN! You can choose to attend the morning or afternoon session. National Science + Engineering Competition entrants will need to book a morning slot as you will need to attend the whole day.
CLICK TO BOOK YOUR SCHOOL GROUP…
YOU DON'T WANT YOUR SCHOOL TO MISS THIS!
ENTER THE NATIONAL SCIENCE + ENGINEERING COMPETITION HERE!
The closing date for projects to be entered is 6 May 2016
Places are limited, please register your projects and book your place as soon as possible.
« Back To News