April 20th 2016
UK Space Agency Principia Schools Conferences: You could show your work to Tim Peake!
The UK Space Agency wants to celebrate the imaginative work linked to Tim Peake's Principia mission that is being done by children of all ages by organising a pair of schools conferences where they can present their work to leading space experts and, if his schedule allows, Tim Peake!
The UK Space Agency is organising two conferences for school pupils in November 2016, conferences will be held at the University of Portsmouth on Wednesday the 2nd of November and the University of York on Saturday the 5th of November.
The days will include keynote talks from leading figures, presentations from the students, exhibition of the students' work and the opportunity to meet and talk to experts from the space industry and the Principia education programmes.
British ESA astronaut Tim Peake will be in attendance at both events, subject to operational requirements.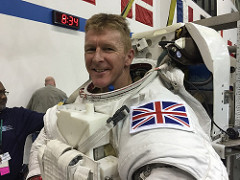 In addition to the conference days, each University will also be hosting an accompanying day of workshops and talks, which participants can also attend. The conferences will be free of charge, with travel bursaries available to help schools with the cost of travelling to the venues.
How to Apply
Individuals or groups of young people of school age are able to apply, through a competitive process, to come to the conferences and present/exhibit their work by submitting a summary of their project(s) or work.
Full details of the application process and the application form can be found on the Principia website.
THE BIG BANG NORTH WEST 2016 IS COMING:
Don't let your school miss out!
Click here to book…
Sponsors & Exhibitors: Play your part in The Big Bang North West!
Follow MerseySTEM on Twitter here
Follow The Big Bang North West on Twitter here
Like MerseySTEM on Facebook
« Back To News