May 08th 2016
Activity Spotlight: PepsiCo & Mploy Business Enterprise at Bishops' Blue Coat School
PepsiCo Transport Co-ordinator Paul Shone, attended Bishops' Bluecoat School in Chester as part of their Enterprise Day in conjunction with Mploy. Working as a business advisor he had the opportunity to educate and inspire! Enterprise days are a fantastic way to encourage young people to think about career paths and the working world.
"I recently supported a business enterprise activity at Blue Coats School in Chester. The activity was run in conjunction with Mploy Solutions who specialise in training, work experience and getting young people into work. Tomorrows Manager Today is an activity which encourages students to set up a business for the day manufacturing and selling vehicles.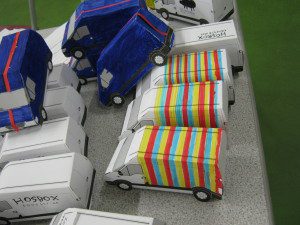 A year group of students were split into groups of approx. 10 – 15 people to form a business and each decided on their job role. The day then consisted of students designing, building, marketing and selling their vehicles using the cardboard templates provided.
Awards were presented at the end of the day for Best Managing Director, Finance, Sales, Marketing, Best Overall Team and any outstanding individual work.
My role, on the day, was as a business advisor to support the students with any questions they had regarding the activity. I had the chance to give my advice and it was also a chance for students to find out a little about my role with Pepsico and Pepsico roles in general.
It was a really interesting and rewarding event and the students really got a lot out of it!"
School STEM Fairs, Events, Activity Days, WE CAN HELP!
THE BIG BANG NORTH WEST 2016 IS COMING:
Don't let your school miss out!
Click here to book…
Sponsors & Exhibitors: Play your part in The Big Bang North West!
Follow MerseySTEM on Twitter here
Follow The Big Bang North West on Twitter here
Like MerseySTEM on Facebook
« Back To News