May 09th 2016
National Science + Engineering Competition: Judges Spotlight – Rob McDonald
The Big Bang North West 2016 is coming and with it, The National Science + Engineering Competition! We would like to introduce you to some of the amazing judges who will be selecting our finalists and award winners.
This week, our spotlight shines on Rob McDonald! Come July 5th, Rob will be examining our competitors projects and discovering what they have learned. Take a look at his biography and top tips below!
Rob McDonald
Occupation: Retired Engineering Manager, Chemical Industry
Background: I always loved tinkering around with models, construction toys and electronics.  My latest "toy" is a Raspberry Pi computer so I can do some coding!  My favourite subject at school was Science.
I applied for an apprenticeship with a major chemical company as an "Instrument Artificer".  I attended college on a day release until I was 24 years old.  After working as an instrument artificer, maintaining and installing measurement and control systems on large chemicals plants, I became a supervisor and then an engineer.  I started my degree with the Open University at the age of 31 and 6 years later I had an honours degree and became a Chartered Engineer.  I became more involved in project work including completing a major control system project in India, which was an experience of a life time.  I have travelled widely as an engineer and have made friends from many countries through engineering.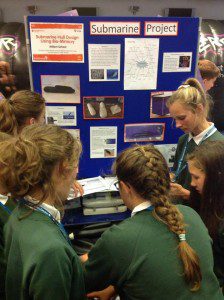 Why have you offered to return as a judge for NSEC at The Big Bang North West 2016? I was very impressed with last year's event, especially with the enthusiasm and creativeness of those students taking part so it was a very enjoyable day.  I have a wonderful career in the world of Engineering and am very keen to assist helping students to make their careers in the exciting world of engineering.
What's the best part of judging? Talking to the teams taking part about the challenges they have faced with their projects and how they overcame them.
Do you have any advice for the students who are entering this year? Prepare as best you can; success often comes to those who have prepared the most thoroughly.  On the day, take some time to look at other projects and see what interests and inspires you.   You might find your future career!
Fun fact about yourself:
I write with my left hand but otherwise am completely right handed!!
We have more NSEC judges to reveal with more top tips for our entrants, so stay tuned!
ENTER THE NATIONAL SCIENCE + ENGINEERING COMPETITION HERE!
The closing date for projects to be entered is 6 May 2016
Places are limited, please register your projects and book your place as soon as possible.
THE BIG BANG NORTH WEST 2016!
Booking is now OPEN! You can choose to attend the morning or afternoon session. National Science + Engineering Competition entrants will need to book a morning slot as you will need to attend the whole day.
CLICK TO BOOK YOUR SCHOOL GROUP…
YOU DON'T WANT YOUR SCHOOL TO MISS THIS!
« Back To News