May 10th 2016
Volunteer Judges Wanted! Tomorrow's Engineers EEP Robotics Challenge
Tomorrow's Engineers are looking for volunteer judges for the Tomorrow's Engineers EEP Robotics Challenge!
12 teams from different local secondary schools are keen to show off their pre-built and pre-programmed robot models to judges and become champions!
Venue: Catalyst Science Discovery Centre, Mersey Road, Widnes, WA8 0DF
Date: Wednesday 25 May 2016
Time: 9am – 3pm 
Alongside other volunteer judges you will attend the all-day Tomorrow's Engineers EEP Robotics Challenge competition event that the students will have been working towards.
You will be required to judge the different elements of the competition:
a team work challenge
a robot challenge
assessing robot designs
programming software
appraising the science space research project
As a judge you will provide encouragement, careers links and positive feedback on team performance. Students taking part in the Tomorrow's Engineers EEP Robotics Challenge will learn more about engineering in a fun and engaging way.
Lunch and refreshments will be provided for judges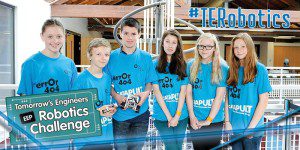 There will be approximately 12 teams from secondary schools in the area taking part in the robotics challenge on the day. Each school has received LEGO MINSTORMS EV3 and Space Challenge resources to prepare for the competition day. Teachers took part in a CPD day and have been provided with lesson plans and resources.
There are 100 schools from the UK taking part in 10 competitions. Winners from each day will compete against other National Finalists at the Ricoh Arena, Coventry on Thursday 23 June 2016.
Click here to email and sign up!
THE BIG BANG NORTH WEST 2016 IS COMING:
Don't let your school miss out!
Click here to book…
Sponsors & Exhibitors: Play your part in The Big Bang North West!
Follow MerseySTEM on Twitter here
Follow The Big Bang North West on Twitter here
Like MerseySTEM on Facebook
« Back To News