May 16th 2016
We Have a Winner! Be One Percent 5th Birthday Big Pub Quiz
On the 12th of May 2016, Be One Percent celebrated their 5th Birthday with The Big Pub Quiz. MerseySTEM sponsored part of the event and not only that, we won! Well…  one of us did – Team Tim!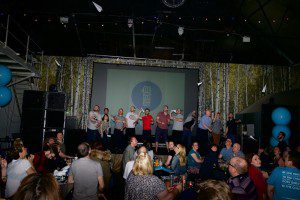 The fundraising event was held at Liverpool's Camp and Furnace and was supported by Mersey STEM, Piccolino Liverpool, Wirral Balloon Company, SolarAid, Concern Universal and Wyzowl.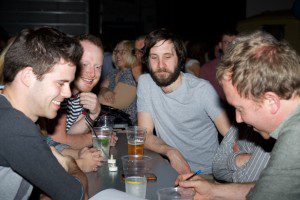 It was a tense competition with MerseySTEM's Events & Engagement Manager Tim Wright, on one team… and MerseySTEM's Managing Director Michelle Dow, on another! You can find Michelle on the photo below deep in concentration…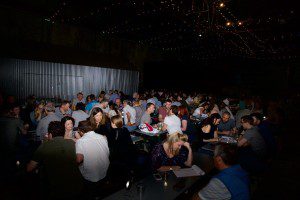 No matter who won or lost, fun & games were had by all. There was everything from paper aeroplane races to guess the chocolate and more – a fantastic night!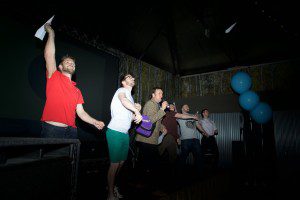 Congratulations to Team Tim (he loves his little shiny cup) and a HUGE well done and Happy Birthday to Be One Percent!
Be One Percent
"Be One Percent started in 2011 with a simple idea: a few people commit to giving 1% of their income each month to help eradicate poverty. That first month eight members funded malaria treatments for 332 people. Five years on there's nearly 200 of us across the UK giving 1% each month to help the world's poorest people."
The network has now raised over £260,ooo, providing 1.5 million school meals, planting 13,000 trees, delivering improved sanitation and clean water to 11,700, and funding health treatments for over 45,000 people!
MerseySTEM are more than proud to be one of the first organisations to take part in the Be One Percent Business Scheme.
Get involved: Be One Percent, we are!
THE BIG BANG NORTH WEST 2016 IS COMING:
Don't let your school miss out!
Click here to book…
Sponsors & Exhibitors: Play your part in The Big Bang North West!
Follow MerseySTEM on Twitter here
Follow The Big Bang North West on Twitter here
Like MerseySTEM on Facebook
« Back To News