June 30th 2016
The Big Bang North West 2016: ScottishPower Show Stage: Who's On?
At The Big Bang North West, our amazing Show Stage this year is sponsored by ScottishPower!
Throughout the day we have a packed timetable of exciting and engaging shows, from fantastic presenters, for you to enjoy. You don't even have to stay for a whole show either – you can drop in and out as you like!
Scottish Power Show Stage Schedule: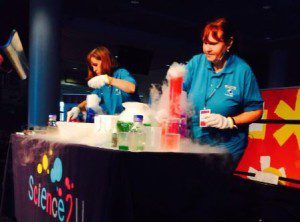 Science2U
09:50 and 13:40
Settle in and prepare to be amazed! From whoosh bottles to slime, disappearing polymers to dry ice, and with some flames on top for good measure, you are sure to be wowed by this fantastic science show. You might even get the chance to get up on stage and be a part of it yourself!
Tom Warrender, The Human Guinea Pig
10:30 and 14:20
Come and meet Tom Warrender, The Human Guinea Pig, at The Big Bang North West and see some of the amazing medical procedures he has been through, just for the fun of it! Tom will also be looking for volunteers to become mini guinea pigs as he runs a series of demos live on stage!
CBBC's Gastronut Stefan Gates
11:20 and 12:50
CBBC's Gastronut Stefan Gates will perform two LIVE Gastronaut Eat My Science Shows!
Stefan's Gastronaut shows are immensely popular, world-class science communication spectacles!
His performances include Chocolatology, The Edible Science Show, Gastrolab, Fartology, The Quantum Mechanical Chocolate Factory, Future Food, Science of Sweets, Gastronaut Extreme, Supertasters and Incredible Edibles.
"I'm looking forward to working alongside MerseySTEM and performing at The Big Bang North West. Like me, they're all about inspiring young people via fun, hands-on STEM. I can't wait to meet the children, spark their interest in science… and maybe, blow some food up! See you all there!"
Discover more about our STEM-sational Show Stage sponsor ScottishPower
The Big Bang North West is sponsored by AstraZeneca

AMAZING NEWS! THE BIG BANG NORTH WEST IS NOW FULLY BOOKED!
If you were hoping to book, DON'T PANIC!
Contact [email protected] to be added to our waiting list.
« Back To News