July 22nd 2016
STEM Careers: MerseySTEM attend Baroness Williams Ministerial Visit at Getrag Halewood
On Friday the 15th of July, MerseySTEM were invited to a Ministerial visit hosted by Getrag Halewood with Baroness Williams of Trafford, Parliamentary Under-Secretary for The Department for Communities and Local Government.
The visit enabled STEM apprentices to share their experiences and allowed invited guests to discuss how Liverpool City Region can work with the Government to promote the study of STEM skills, STEM Apprenticeships and careers.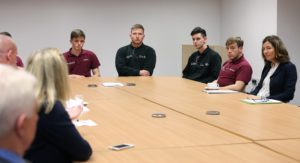 Liverpool City Region Apprenticeship Hub has been working since 2013 on behalf of the Combined Authority and Local Enterprise Partnership to promote apprenticeships. The Hub has organised a series of events to promote the uptake of apprenticeships and recently launched an Apprenticeship Strategy for the City Region, as part of National Apprenticeship Week 2016. The Hub also organise and support apprentice ambassadors.
Baroness Williams ministerial visit began with a welcome reception, followed by a factory tour of Getrag Halewood and a round-table discussion.
MerseySTEM Managing Director Michelle Dow said, "This is an amazing opportunity for all involved to 'talk STEM'. It is invaluable to collaborate with Government and industry and talk to young apprentices so as to develop new strategies from their experiences. MerseySTEM are dedicated to promoting STEM across the region by connecting schools & businesses and facilitating interactive, fun events – we excite and inspire young people about STEM and that is what this meeting was all about. It's another fantastic step forward for STEM skills, STEM Apprenticeships and careers."
Apprentices from Jaguar Land Rover & Getrag were joined by:
Alan Seeley- Getrag HR Manager and Chair, Knowsley Chamber of Commerce
Michelle Dow – Managing Director, MerseySTEM
Phil Boden – Getrag Engineering Manager
Hans-Juergen Herlemann – Getrag Plant controller
Asif Khan – Getrag Plant Manager
Andy Roche – Getrag Production Manager
Derek Massey – Apprenticeship Manager, Getrag
Councillor Eddie Jones – Halton Metropolitan Borough Council
Richard Else – Jaguar Land Rover and Chair, Liverpool City Region Employment and Skills Board
Siobhan Saunders – Chair, Liverpool City Region Apprenticeship Hub
Jonathon Clark – LCR 4.0 Project Officer LCR LEP
Images courtesy of Gareth Jones
The Big Bang North West: Express your interest for our 2017 event!
Official Gallery: Thousands of children inspired at The Big Bang North West 2016!
The Big Bang North West 2016 Gallery: Behind the Scenes
The Big Bang North West 2016 Gallery: BBNW LIVE TWITTER 'TRENDING' NATIONALLY!
Headline Sponsors AstraZeneca 'Heat Up' The Big Bang North West
Big Bang UK Young Scientists & Engineers Competition: Winners & Awards
The Big Bang North West 2016: Booming Online!
The Big Bang North West 2016: Your Amazing Feedback!
The Big Bang North West 2016: A Teacher's View

« Back To News