August 02nd 2016
Big Bang North West 2016 Gold-Plus Sponsor: 13 Trusts Collaborate for NHS Health Education England North West
As Gold-Plus Sponsor for The Big Bang North West 2016, Health Education England North West brought together a phenomenal 13 Trusts to create a medical learning zone beyond all others!
Health Education England North West gave Big Bang North West attendees the opportunity to speak to professionals from physiology, radiography, pharmacy, dietetics, nursing, cardiology, dental, clinical laboratories and more.
Activities included CPR, identifying tumours with CT scans, healthy food models, cleanliness checks with UV light, weight of fat deposits, artificial hearts and their function, naming bones and quizzes.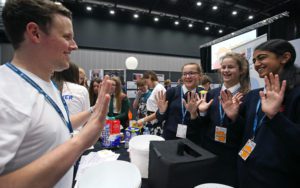 Health Education England (HEE) supports the delivery of excellent healthcare and health improvement to the patients and public of England. Working across the North West, they ensure that the workforce of today and tomorrow has the right numbers, skills, values and behaviours, at the right time and in the right place.
Collaborating Trusts:
Clatterbridge
Wirral Hospital Foud. Trust
Lancashire Care CPR
Liverpool Community Health
BCUHB Glan Clwyd Hospital
Walton Centre
Liverpool University
Lancashire Teaching Hospital
Morecambe Bay Hospital
North West Ambulance Service
Central Manchester FT
NW Coast Genomics Healthcare Alliance
Liverpool Women's
Skills for Health Academy
The Big Bang North West 2016 was sponsored by AstraZeneca along with ScottishPower, Merseyside Network for Collaborative Outreach, Health Education England (North West), Carillion Kier (Joint Venture), Unilever, Sellafield, Alstom, GETRAG Ford & Air Products.
A huge thank you to all, what an inspirational event to be a part of!
You could be a Big Bang North West sponsor in 2017, get in touch…
Official Gallery: Thousands of children inspired at The Big Bang North West 2016!
Big Bang North West 2016: The Movie
The Big Bang North West 2016 Gallery: Behind the Scenes
The Big Bang North West 2016 Gallery: BBNW LIVE TWITTER 'TRENDING' NATIONALLY!
Headline Sponsors AstraZeneca 'Heat Up' The Big Bang North West
Big Bang UK Young Scientists & Engineers Competition: Winners & Awards
The Big Bang North West 2016: Booming Online!
The Big Bang North West 2016: Your Amazing Feedback!
The Big Bang North West 2016: A Teacher's View

« Back To News