September 29th 2016
All About STEM: Unilever 'Bright Futures' Teacher Twilight Session
On Tuesday the 27th of September, All About STEM assisted Unilever in their 'Bright Futures' Programme Teacher Twilight Session at Port Sunlight, Wirral.
The Unilever Team, alongside Sarah Frodsham (Innovation Workstream Leader, R&D Hair Care) & Glynn Roberts (Director, R&D Hair Care) welcomed teachers from across the region to an evening of discovery, exploration and innovation.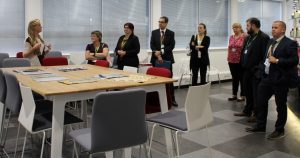 "We believe there has never been a better time to create a better future for our children; a world where everyone has enough food to eat and no child goes to bed hungry. Where every child lives to their fifth birthday and has the right to a happy childhood. Where every home has enough water to drink and to wash, cook and clean and where everybody can enjoy life today while protecting the planet for future generations.
Unilever BrightFuture is a platform that helps unite and amplify the efforts of a growing community of people who believe it is possible to build a world where everyone lives well and lives sustainably. Who recognise we can only achieve this if we all work together to do small actions every day that make a real difference and who inspire others to join us in making this the way everyone chooses to live." [Unilever]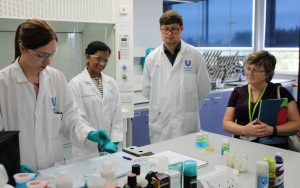 During the tour, teachers were introduced to the five of the key areas of work taking place on site, through a series of interactive demonstrations and presentations:
Packaging – A look at the company's packaging changes & materials from around the world to meet different needs
Formulation – A chance to see surfactant chemistry in action and how formulations can be altered and changed to meet different needs
Processing – A tour of the hair pilot plant to see how chemical engineers get lab scale ready for factory scale
Digital R&D – How advancements in IT technology aid scientists to design winning products
Consumer – Thinking like consumers with an interactive session all about consumers in China, what does the company does to understand what makes them tick
In addition to the activities above there was also the opportunity to learn more from Unilever's HR team about some of the softer skills employers are looking for, as well as getting some more information about the company's Apprenticeships and Dove Day programmes. Directors from the Hair, Laundry and Discover sectors shared their career journeys and opened up the floor for a Q & A.
Click here to visit the Unilever website and find out more…
Official Gallery: Thousands of children inspired at The Big Bang North West 2016!
Big Bang North West 2016: The Movie
The Big Bang North West 2016 Gallery: BBNW LIVE TWITTER 'TRENDING' NATIONALLY!
Headline Sponsors AstraZeneca 'Heat Up' The Big Bang North West
The Big Bang North West 2016: Your Amazing Feedback!
The Big Bang North West 2016: A Teacher's View

Follow All About STEM on Twitter here
Like All About STEM on Facebook
Follow The Big Bang North West on Twitter here
Like The Big Bang North West on Facebook
« Back To News