September 16th 2016
How Plants See the World – 34th Brownies Group: Illustrating the Impacts of the STEM Ambassadors programme
Here's another fantastic case study from our inspirational STEM Ambassadors. Rebecca Donnelly & Jennifer Francis are Research Scientists from the University of Liverpool. They visited the 34th Brownie Group with their team to demonstrate how plants see the world!
Illustrating the Impacts of the STEM Ambassadors programme
Case Study: How Plants See the World – 34th Brownies Group
Context and Overview
A group of research scientists, from the University of Liverpool, with a common interest for passing on their passion of science to the next generation, visited the 34th Brownies group. Brownies is a Girlguiding organisation for girls aged seven to ten years old.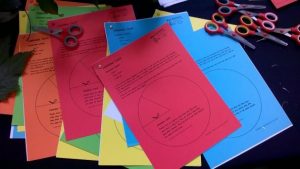 As STEM Ambassadors, we aimed to introduce girls to the importance of plants in our environment. We came up with a number of interactive activities, which we hoped would engage the girls in exploring the world of plants. By identifying interesting facts about plants, we built activities that would effectively communicate the concepts. One activity involved constructing a Linnaeus' flower clock, which taught the girls how plants have circadian rhythms, an internal mechanism, that acts like a body clock, which plants use to survive. To introduce this complex concept to a young audience, we created a card pinwheel that showed the times at which different flowers open. This idea was based on the concept garden designed by Carolus Linnaeus in 1751.
The pinwheel contained outlined drawings of flowers that could be coloured in by visitors whilst the demonstrator chatted to them about circadian rhythms. Our card Linnaeus clock is available to download here.
To demonstrate that plants can recognise the pH of the soil that they are in, we brought some pH indicator that had been made using red cabbages. Red cabbage indicator is purple at a neutral pH, but can change to bright yellows and pinks on the addition of household substances such at lemon juice or washing powder. The girls were encouraged to test the pH of a selection of different items, as well as testing soil samples. Photographs of hydrangeas were on display to show how drastic an effect soil pH can have on plants.
To demonstrate leaf adaptations, a microscope was available to look at details such as veins and stomata on leaves from a variety of plants including local deciduous trees, an ornamental conifer, and a Christmas cactus. While some of the girls enjoyed looking at the leaf structures, it became clear that some aphid eggs found on a sycamore leaf was more interesting! Materials for making leaf rubbings were also provided to encourage the girls to look at leaves more closely and examine their different shapes. We then cut their leaf rubbings out and attached them to headbands, as a souvenir for the girls to take away.
Impact on young people
During their key stage two school studies, the girls are at least aware of plants, so we aimed to build on this knowledge with fun activities. As the groups were relatively small, we were able to fully engage the girls' attention and change the perception of the physical appearance of a scientist. Our activities enabled the girls to get hands-on with scientific activities in a fun context, supporting their curricula studies in school but also bringing them into contact with 'real' scientists, and developing their interest in and engagement with Science in a broader context.
Impact on organisation  
Girlguiding is a large organisation, which already recognises the importance of science by providing science investigator badge to Brownies. As research scientists volunteering to attend one of the Brownie meetings, we helped to contribute towards the running of a weekly session and gave the Brownies an exciting insight into the life of a scientist, which many may never get the opportunity to experience. Our visit was a positive contribution to the broad educational aims of the organisation.
Impact on STEM Ambassadors
The positive response from both the children and Brownie leaders has inspired us to continue outreach activities. Not only was it a rewarding experience, seeing the girls have fun whilst learning, but we also developed our own transferable skills in the process and the experience has led  us to consider a career in science communication.
Future plans
Since delivering this workshop on plants to the Brownies group, we have continued to raise awareness of STEM subjects amongst young people, by participating in other outreach activities, such as the Meet the Scientists event at the Liverpool World Museum. We plan to return to the Brownie group and deliver another session in the future.
Discover more about the STEM Ambassador programme…
Official Gallery: Thousands of children inspired at The Big Bang North West 2016!
Big Bang North West 2016: The Movie
The Big Bang North West 2016 Gallery: BBNW LIVE TWITTER 'TRENDING' NATIONALLY!
Headline Sponsors AstraZeneca 'Heat Up' The Big Bang North West
The Big Bang North West 2016: Your Amazing Feedback!
The Big Bang North West 2016: A Teacher's View

Follow All About STEM on Twitter here
Like All About STEM on Facebook
Follow The Big Bang North West on Twitter here
Like The Big Bang North West on Facebook
« Back To News