October 04th 2016
15th November 2016: BIMA DIGITAL:DAY – Get Involved!
Digital Day is a nationwide competition where students complete one of three sponsored challenges with the chance to be crowned Digital Day champions – winning £500 cash for their school plus a host of cool prizes. What's more, it's completely free to take part!
The only digital initiative of its kind, Digital Day is aimed at 13-18 year olds and sees digital professionals head to schools for a day to inspire students and give them insight into a world of digital careers.
Regional co-ordinator: Amanda Follit, Amaze, Liverpool: "Digital Day is an initiative run by the British Interactive Media Association to engage the digital industry with young people and education. It's a great opportunity for children to learn about the careers they can have in digital and to have fun coming up with some great ideas in the challenges. Alongside this it's wonderful to see agencies link in with education and hopefully in the process, close the digital skills gap in the future by inspiring students to join one of the biggest growth industries."
Digital Day takes place on Tuesday the 15th of November 2016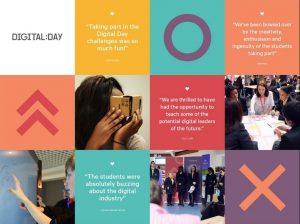 How does it work?
You sign up here and then are paired with a local agency for the day. The agency will make contact before the day just to make arrangements. The agency turn up to the day, meet with you and help facilitate throughout the day with pupils working through the challenges.
What if we are not paired with an agency?
There are undoubtedly more schools than agencies in some regions but you can still run the day and enter the competition. You are provided with all the information you need including a presentation to set the day off.
Do we need computers?
The bottom line is no. One computer or tablet is useful to be able to research online or look for information however it can all be done on paper. The challenges are generally looking for ideas and thoughts. A screen is also needed for a short film and presentation that we provide to kick off the day.
Will it be a full school day?
Yes! Schools should keep the whole day on 15 November free for Digital Day. There is a presentation in the morning that will last an hour and the challenges should take up the rest of the day.
What assets do I receive on the day?
Schools will receive their challenge sheets in the post at the beginning of November so keep an eye on your post box. Everything else that you need will be sent to you by email so keep an eye on your inbox.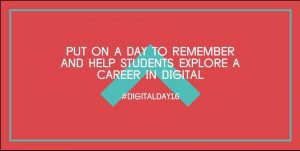 How many students need to be involved?
This one is completely up to you. Typically class sizes of 30-40 students but there have been instances where classes could be smaller (anything from 15) to much bigger (100+). If you are planning to have more than 50 students, you should note this when you sign up so you receive ample resources.
What do the challenges look like?
Last year's challenges included: Think of a fun and easy digital way for younger adults to save money; Create a new and exciting feature for the 'My Vodafone' app; Plan a digital marketing campaign for your favourite Sony music artist with a new album release.
Sounds like fun!
Click here for further information and to get involved! 
The Big Bang North West: Express your interest for our 2017 event!
Official Gallery: Thousands of children inspired at The Big Bang North West 2016!
The Big Bang North West 2016 Gallery: BBNW LIVE TWITTER 'TRENDING' NATIONALLY!
Headline Sponsors AstraZeneca 'Heat Up' The Big Bang North West
The Big Bang North West 2016: Booming Online!
The Big Bang North West 2016: Your Amazing Feedback!
The Big Bang North West 2016: A Teacher's View

« Back To News