November 15th 2016
Team All About STEM: Introducing Dr Dave!
We're so excited to introduce you to the newest member of Team All About STEM, Dr Dave!
With a bigger and better Big Bang North West, more awesome contracts and events and All About STEM's amazing expansion, we said that our team would be growing and it is. As our new Project Manager, Dr Dave is already hard at work at STEM HQ and around the region, teaming up businesses & schools to create work experience and careers opportunities!
Want to know more about the man behind the beard? Read on…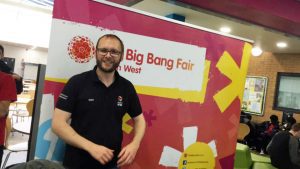 All About Me:
"I left school at 16 with C's in science and D's in the rest of my GCSE's and on leaving, I became a Flexographic Printer. My job was to print drinks bottle labels and after 4 years and literally millions of labels later I moved on as a process plant operator at a chemical fertilizer site. Along with other duties I was responsible for working on ammonia and demineralisation plants.
At the age of 24 I decided there must be more to life than pressing buttons so I volunteered in Africa on conservation projects in Mozambique, Swaziland and South Africa where I fell in love with ecology and conservation. Upon returning to the UK I called the University of Central Lancashire and got onto their Ecology and Conservation course. I finished top of the class which led onto my PhD at the University of Manchester looking at how trees and grasses can help make cities (particularly Manchester) more climate change future proof.
I then joined MerseySTEM (who are they?) to initiate the delivery of the CheshireSTEM contract before leaving to manage Fab Lab Ellesmere Port, Manchester and Altrincham. In my last role I played with 3D Printers, lasers cutters, CNC routers and millers and worked on electronics and programming to produce prototypes while delivering educational activities. My return to All About STEM is due to my heart for my local areas and a determination to ensure that pupils don't see their grades as the end of the story."
All About STEM:
"Me? I'm All About STEM's new Project Manager. Initially I'll be delivering the implementation for the Careers and Enterprise funded Enterprise Adviser Network which looks to link strategic business people with the senior leadership team of local schools to develop and deliver and inclusive and structured Careers plan across the school. The idea is to inform and prepare pupils for the world of work by ensuring they have had access to well-developed careers advice and beneficial work experience."
All About The Good Life:
"I am a beekeeper, a homebrewer, I grow my own vegetables, I produce my own charcuterie and I desperately want to get chickens and pigs and I would love to live off-grid. Oh, and my childhood hero was Grizzly Adams."
Welcome to the Team Dr Dave! We would say 'now get to work'… but you already are! (He's a good egg.)
You could be a part of the Careers and Enterprise funded Enterprise Adviser Network. Take a look at the video below, this is happening in our region. Click for more…
The Big Bang North West: Express your interest for our 2017 event!
Official Gallery: Thousands of children inspired at The Big Bang North West 2016!
The Big Bang North West 2016 Gallery: BBNW LIVE TWITTER 'TRENDING' NATIONALLY!
Headline Sponsors AstraZeneca 'Heat Up' The Big Bang North West
The Big Bang North West 2016: Booming Online!
The Big Bang North West 2016: Your Amazing Feedback!
The Big Bang North West 2016: A Teacher's View

Follow All About STEM on Twitter here
Like All About STEM on Facebook
Follow The Big Bang North West on Twitter here
Like The Big Bang North West on Facebook
« Back To News