December 07th 2016
RHS Rocket Science Project: The Results!
It was fantastic to see so many of our schools taking part in the RHS Rocket Science Project, thank you for sharing all of your photos with us on social media! The Royal Horticultural Society has released the final results of the experiment. Did the seeds from space grow slower or faster?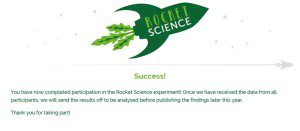 The Rocket Science Project was an exciting experiment designed to tie in with British European Space Agency (ESA) astronaut Tim Peake's Principia mission to the International Space Station.
On the 3rd of September 2015, one million tiny rocket seeds were launched into space to begin a six month stay on board the ISS.

Over 600,000 school children signed up to receive a packet of space seeds to grow, alongside an identical packet of seeds that had remained on Earth.

Unaware which packet contained the space seeds, young space biologists across the UK nurtured their seedlings and recorded their findings.
The aim was to investigate whether space travel affected the germination and growth of the rocket and whether this could help us understand more about how astronauts might be able to grow their own food on long space missions.
We've kept you in suspense for long enough…
Click here for the full results!
The Big Bang North West: Express your interest for our 2017 event!
Official Gallery: Thousands of children inspired at The Big Bang North West 2016!
The Big Bang North West 2016 Gallery: BBNW LIVE TWITTER 'TRENDING' NATIONALLY!
Headline Sponsors AstraZeneca 'Heat Up' The Big Bang North West
The Big Bang North West 2016: Booming Online!
The Big Bang North West 2016: Your Amazing Feedback!
The Big Bang North West 2016: A Teacher's View

Follow All About STEM on Twitter here
Like All About STEM on Facebook
Follow The Big Bang North West on Twitter here
Like The Big Bang North West on Facebook
« Back To News