January 20th 2017
Impact of the National STEM Learning Network: STEM Ambassadors are a national treasure!
The 'Making an Impact' report from the National STEM Learning Network illustrates the key impacts that STEM Ambassadors have on young people and those who work with young people.
STEM Ambassadors use their experience to inspire teachers and young people in STEM subjects. They ignite interest with their expert knowledge and add an exciting twist to lessons, talks & events.
After evaluating the work of STEM Ambassadors, the research shows: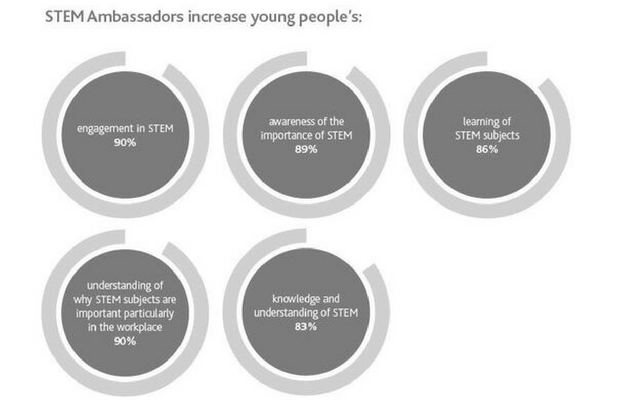 "STEM Ambassadors are a UK national treasure; an important and exciting free of charge resource for young learners, teachers and other individuals working with young people – in and outside of the classroom. They bring a fresh and inspiring perspective to STEM lessons and careers information, and complement excellent teaching in schools and colleges.
STEM Ambassadors help bring STEM concepts to life, adding context and cutting edge applications to theory. They challenge young people to solve the real problems that STEM-based businesses face. They inspire teachers and others with expert advice, can provide innovative contexts for experiments and investigations, and sometimes even bring along specialist equipment for young people to experience.
STEM Ambassadors are able to illustrate what a career in STEM really looks like, and broaden the horizons of young people by exposing them to the vast breadth and depth of opportunities. They share stories of their own experiences of working in STEM, showing students the steps they need to take to get there themselves."
Love STEM? Become a STEM Ambassador and inspire the next STEM generation.
Click to find out more…
STEM Ambassadors: Making an impact
Read the full report and see what an amazing difference STEM Ambassadors.
The Impact of the National STEM Learning Network
Request a STEM Ambassador for your school


The Big Bang North West: BOOK NOW for our 2017 event!
Official Gallery: Thousands of children inspired at The Big Bang North West 2016!
The Big Bang North West 2016 Gallery: BBNW LIVE TWITTER 'TRENDING' NATIONALLY!
Headline Sponsors AstraZeneca 'Heat Up' The Big Bang North West
The Big Bang North West 2016: Booming Online!
The Big Bang North West 2016: Your Amazing Feedback!
The Big Bang North West 2016: A Teacher's View
Follow All About STEM on Twitter here
Like All About STEM on Facebook
Follow The Big Bang North West on Twitter here
Like The Big Bang North West on Facebook
« Back To News