January 30th 2017
Tim Peake is returning to space: Debate the future of space travel!
British Astronaut Tim Peake has just revealed that he'll be heading back to the International Space Station for another mission , what better time to use this Mars Mission Debate Kit from I'm a Scientist, Get Me Out of Here?
Your students can debate the future of human space travel!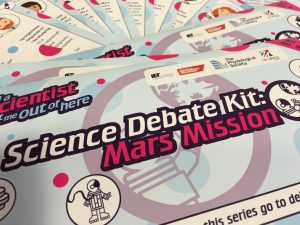 The Mars Mission Debate Kit asks the question:
Should we send a human space mission to Mars?
The kit allows students to look at the argument from all sides; to explore the social, technological, physiological, and ethical issues around sending a human space mission to Mars. All the facts in the Mars Mission Debate Kit have been researched.
Click here to download your debate kit…
Astronaut Tim Peake becomes first honorary STEM Ambassador!

The Big Bang North West: BOOK NOW for our 2017 event!
Official Gallery: Thousands of children inspired at The Big Bang North West 2016!
The Big Bang North West 2016 Gallery: BBNW LIVE TWITTER 'TRENDING' NATIONALLY!
Headline Sponsors AstraZeneca 'Heat Up' The Big Bang North West
The Big Bang North West 2016: Booming Online!
The Big Bang North West 2016: Your Amazing Feedback!
The Big Bang North West 2016: A Teacher's View
Follow All About STEM on Twitter here
Like All About STEM on Facebook
Follow The Big Bang North West on Twitter here
Like The Big Bang North West on Facebook
« Back To News