February 09th 2017
Join Apps for Good for an interactive student marketplace!
Join Apps for Good and speak to students from Bolton and Manchester as they showcase their app ideas in an interactive marketplace at Thornleigh Salesian College. 
Visitors can also preview the projects that their IoT pilot students have been working on.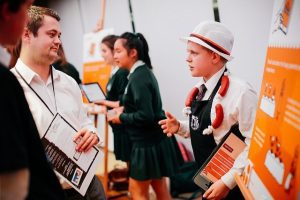 When: Thursday 30th March, 4pm-5.15pm
Where: Thornleigh Salesian College, Sharples Park, Bolton, BL1 6PQ
Apps for Good is a registered education technology charity that equips teachers with a course framework designed to teach their students how to create their own apps.
Teachers can choose between two courses (a longer 30 hour course or a shorter 15 hour course) to help students learn the fundamentals of coding whilst developing key soft skills such as presenting, public-speaking and team-working. Whilst completing the course students are encouraged to create apps that aim to solve problems in their communities; thus addressing the good in Apps for Good.
The courses are free for all non-fee paying schools and can be delivered during curriculum time, as an extracurricular activity or as an enrichment activity.

The Big Bang North West: BOOK NOW for our 2017 event!
Official Gallery: Thousands of children inspired at The Big Bang North West 2016!
The Big Bang North West 2016 Gallery: BBNW LIVE TWITTER 'TRENDING' NATIONALLY!
Headline Sponsors AstraZeneca 'Heat Up' The Big Bang North West
The Big Bang North West 2016: Booming Online!
The Big Bang North West 2016: Your Amazing Feedback!
The Big Bang North West 2016: A Teacher's View
Follow All About STEM on Twitter here
Like All About STEM on Facebook
Follow The Big Bang North West on Twitter here
Like The Big Bang North West on Facebook
« Back To News