May 26th 2017
Big Bang North West: Remote Operation Vehicles with Amec Foster Wheeler!
We are excited to announce that Amec Foster Wheeler will be returning to The Big Bang North West!
Amec Foster Wheeler designs and maintains power stations, oil rigs, refineries and processing plants all over the world for customers in the energy industry. We employ around 35,000 people in more than 55 countries and in 2016 our revenue was £5.4 billion. Our nuclear business helps to maintain safety and efficient operations at the UK's fleet of nuclear reactors, which produce about 20% of the country's electricity. We also work on nuclear safety and decommissioning and we employ more than 3,000 nuclear specialists around the world.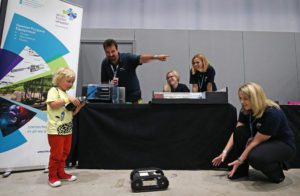 "On show we will have our remote operation vehicles (ROVs) from our engineering development team. The ROVs are used to carry out tasks in hazardous environments or inaccessible spaces on the power plants and can be fitted with a variety of tools and cameras. Students will be able to get hands-on experience with the operation of the ROVs guiding them over obstacles and through a mini maze, all replicating obstacles experienced on real power plants during our work.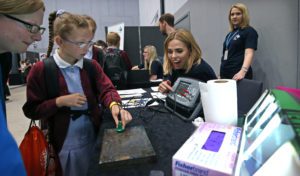 We will also have our inspection team on-hand to show how ultrasound can be used to find hidden cracks and defects within metal components, allowing us to understand whether they will be safe to use or not. Students will be able to race our computerised robotic arm to see who can find the defect first!"
We can't wait to have a go of the ROM!
Are you looking forward to The Big Bang North West?
Follow The Big Bang North West on Twitter here

The Big Bang North West 2017
Big Bang North West 2017: Headline Sponsor AstraZeneca!
Official Gallery: Thousands of children inspired at The Big Bang North West 2016!
The Big Bang North West 2016 Gallery: BBNW LIVE TWITTER 'TRENDING' NATIONALLY!
The Big Bang North West 2016: Booming Online!
The Big Bang North West 2016: Your Amazing Feedback!
The Big Bang North West 2016: A Teacher's View
« Back To News