June 09th 2017
Big Bang North West: Aquaponics, Future Food and Super Smoothie Shots with Farm Urban!
We are overjoyed to announce that Farm Urban will be returning to The Big Bang North West 2017.
Farm Urban are a social enterprise who use aquaponics and open source technologies to engage and inspire people to connect with their environment and explore their relationship with food. They have some STEM-sational, interactive (and delicious) activities for you this year!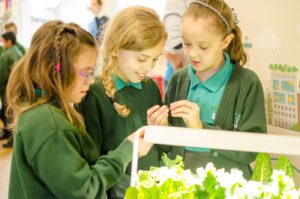 The Aquaponics Challenge:
Food is running out and we need to find new ways to keep people from going hungry. Come and visit our living lab and compete to be the fastest school to build your own aquaponics system. You can win a Produce Pod system and ½ day workshop worth £500 for your school plus £100 of Liverpool One vouchers for the winning team members.
Farm Urban are looking for the best problem solvers, innovators, researchers and engineers in the North West. The challenge: to be the fastest team to build our Produce Pod aquaponics system. We're inviting teachers and students to form teams (max 5 people) to compete against each other to build our aquaponics system. The catch – there are no instructions … and the clock is ticking !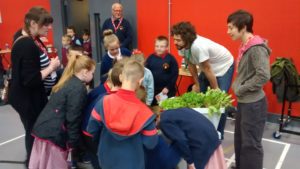 The Science Behind Aquaponics
Come and find out more about the science behind aquaponics: conduct your own wet chemistry water quality tests, balance the system nutrient levels to keep our fish and plants healthy, investigate the system bacteria under the microscope.
Drop-in Cafe
Come and make your own super green smoothie shots with fruit and aquaponic greens freshly harvested from one of our local systems.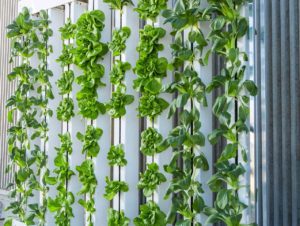 Future Food Vertical Farm Demo
Farm Urban will be demonstrating the latest addition to their urban food production systems the ZipGrow Farm Wall; a modular hydroponic vertical growing system.
Farm Urban
Feeding the world's growing population is one of the most pressing problems facing humanity. Aquaponics is at the cutting-edge of sustainable food growing technology, and promises to revolutionise how we produce food in our cities.
Farm Urban's team of bio-scientists and engineers take science fresh from the lab to link leading research with local food production. They create innovative and sustainable ways to grow food in the heart of the city.
Their living labs bring green technology into the classroom. By presenting students with the real-world problem of food security and challenging them to find innovative and creative solutions, they're uncovering the next generation of scientists, entrepreneurs and leaders.
"The Big Bang North West provides us with an unparalleled opportunity to engage with pupils and teachers from around the North West and share our innovative approach to STEM education. The energy and enthusiasm that is generated at each Big Bang inspires us to keep working to help educate the next generation of scientists." – Farm Urban
We can't wait to welcome Farm Urban back to The Big Bang North West 2017, see you all there for a super smoothie shot!
Farm Urban on Twitter
Farm Urban on Facebook
Farm Urban's TEDx talk

The Big Bang North West 2017
Big Bang North West 2017: Headline Sponsor AstraZeneca!
Official Gallery: Thousands of children inspired at The Big Bang North West 2016!
The Big Bang North West 2016 Gallery: BBNW LIVE TWITTER 'TRENDING' NATIONALLY!
The Big Bang North West 2016: Booming Online!
The Big Bang North West 2016: Your Amazing Feedback!
The Big Bang North West 2016: A Teacher's View
Follow All About STEM on Twitter here
Like All About STEM on Facebook
Follow The Big Bang North West on Twitter here
Like The Big Bang North West on Facebook
« Back To News