August 02nd 2017
Big Bang North West 2017 Review: STEM Ambassador Trans-Pennine Hub
It is always amazing to hear fantastic feedback about The Big Bang North West! A massive thank you to Jennifer Lobo from The Museum of Science & Industry for this sensational review. Jen manages all STEM Ambassadors for the Trans-Pennine STEM Learning Hub.
"I came to The Big Bang North West to get a better understanding of all the fantastic STEM activities, opportunities and things out there. I came for the afternoon and started with a brilliant VIP tour with Laura who picked out lots of great highlights from the exhibitors – I would have missed a lot of it if she hadn't pointed it out.
The atmosphere when all the students arrived was great – they were so excited and each stand I went to visit they were so engaged and taking part in all the activities!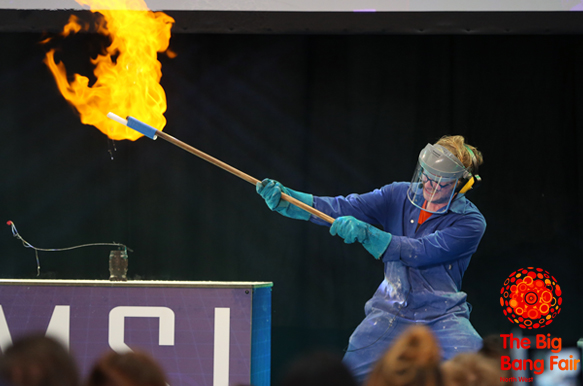 I went to see all the shows in the afternoon, a great variety of different STEM-related fun and it was great that there was a mix of primary and secondary students watching and enjoying the shows – the crowd was 5 people deep at the MSI show with schools standing round the edges!
I really enjoyed seeing the pupils projects – I liked the variety and freedom of the challenges, I enjoyed reading about the make-up, the lamp and the hydraulic arm. The part I enjoyed the most was the displays and demos from companies where STEM happens but I just don't think about it – for example the demonstration of the challenges of pumping water and the energy loss involved with United Utilities, and the company in Construction Corner who were explaining and doing a demo on how road markings are made (I had no idea it wasn't paint!).
I loved the aquaponics stand and the UV glow stick experiment with Liverpool John Moores and Royal Society of Chemistry – I'm going to try it at home and show everyone!!
I really loved my time at The Big Bang North West and definitely will be coming again next year – it's a must for everyone, a real eye-opener of all the fantastic STEM opportunities out there! Thank you for a great day!"
Jennifer Lobo
STEM Ambassador Engagement Officer
The Big Bang North West 2017: A STEM-sational Success with Schools!
Headline Sponsor: AstraZeneca Inspire All at The Big Bang North West
Official Gallery: The Big Bang North West 2017
Big Bang North West 2017: The Movie!
Go Virtual with The Big Bang North West!
The Big Bang North West 2017: Your Amazing Feedback
The Big Bang UK Competition: Finalists & Award Winners!
Big Bang North West 2017: A Teacher's View

Follow All About STEM on Twitter here
Like All About STEM on Facebook
Follow The Big Bang North West on Twitter here
Like The Big Bang North West on Facebook
Images © All About STEM / Big Bang North West – Photographer: Gareth Jones
« Back To News