August 04th 2017
Big Bang North West 2017: ScottishPower's STEM-sational Show Stage!
ScottishPower made a 'big bang' of their own at The Big Bang North West 2017 by sponsoring our amazing Show Stage!
This awe-inspiring performance space was one of the highlights for our attendees as they witnessed phenomenal fire demonstrations, mesmerising medical magic, astonishing activities and STEM-sational science!
"We're very proud to have sponsored the Big Bang North West Show Stage as this is a fantastic event that inspires future generations to get involved in STEM. It was great to see so many young people get involved and experience STEM in a fun and engaging way." Muir McDonald, Head of Resourcing – ScottishPower.
We can't thank ScottishPower enough for their ongoing support, every show was standing room only- look at that crowd!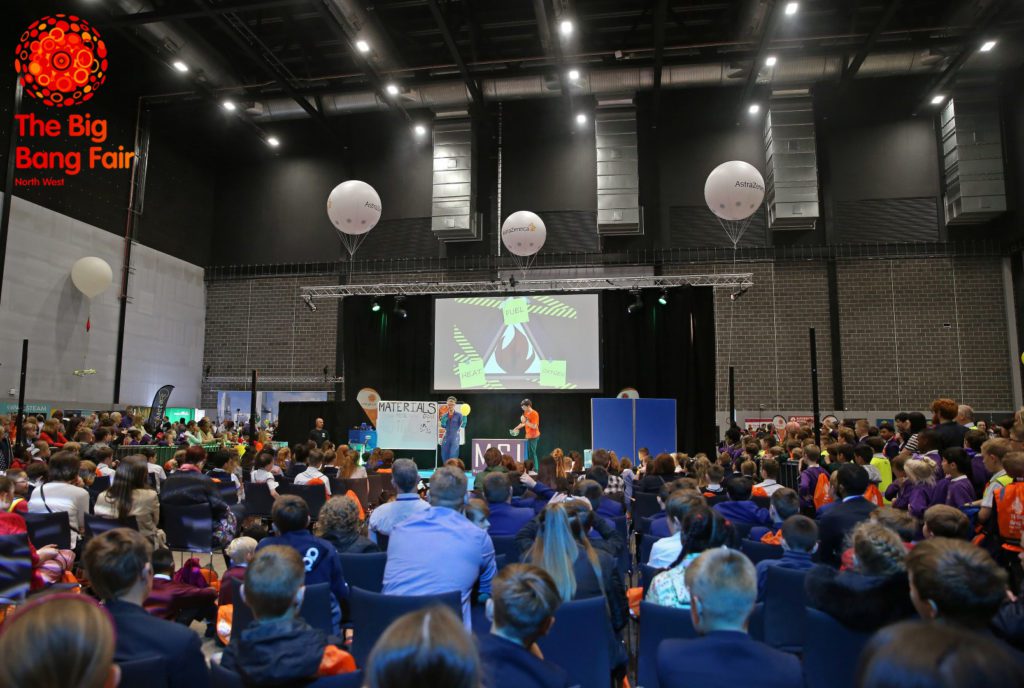 Dr Marty Jopson, star of Sky One's Brainiac and resident gadget expert on BBC's The One Show performed his latest show, The Science of Everyday Life.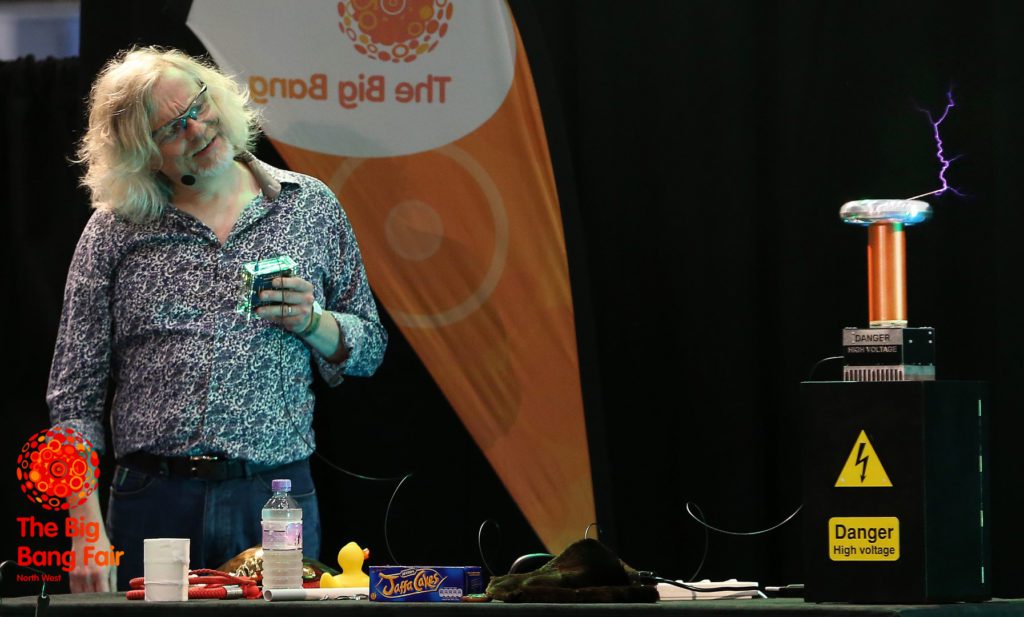 He answered questions including 'how to get the quartz out of a clock using a hammer?', produced record breaking bubbles and played the theme from Star Wars using a million volts!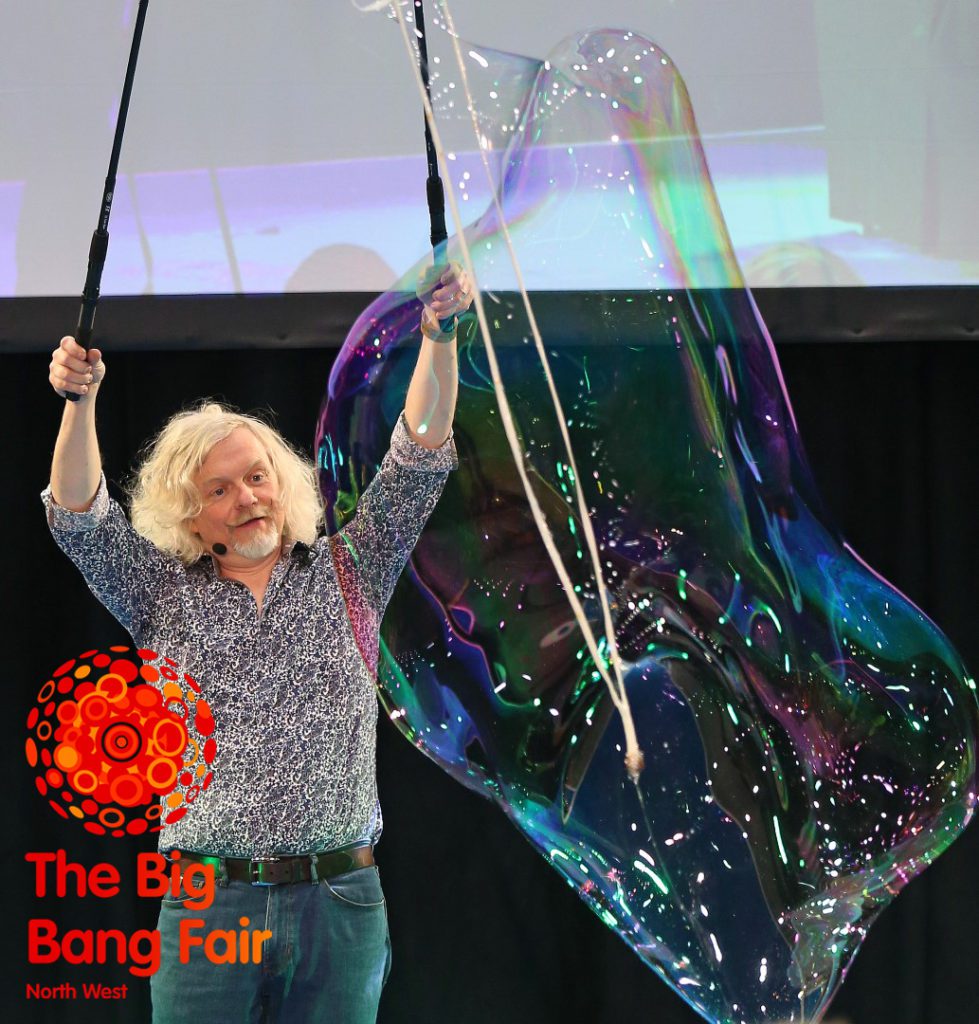 "It was my very great privilege to be involved in BBNW 2017 and what a fantastically well organised and fun event it was. My shows were full of grinning faces and everywhere I went around the hall there were kids exploring STEM. I can't wait to be back for more!" Marty Jopson, Science Bloke – ScottishPower Show Stage Performer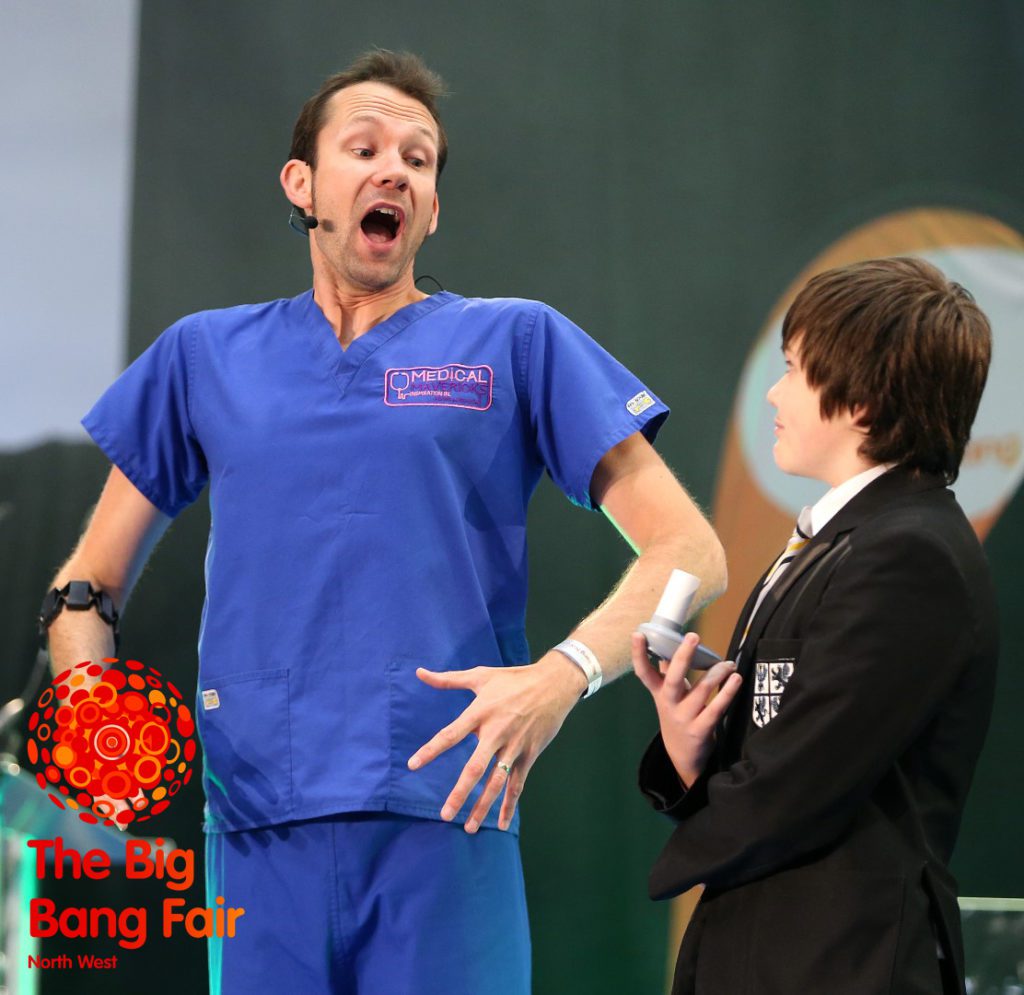 Tom Warrender, The Human Guinea Pig demonstrated some of the amazing medical procedures he has been through, just for the fun of it! Our attendees thoroughly enjoyed being mini guinea pigs themselves – medical marvelousness!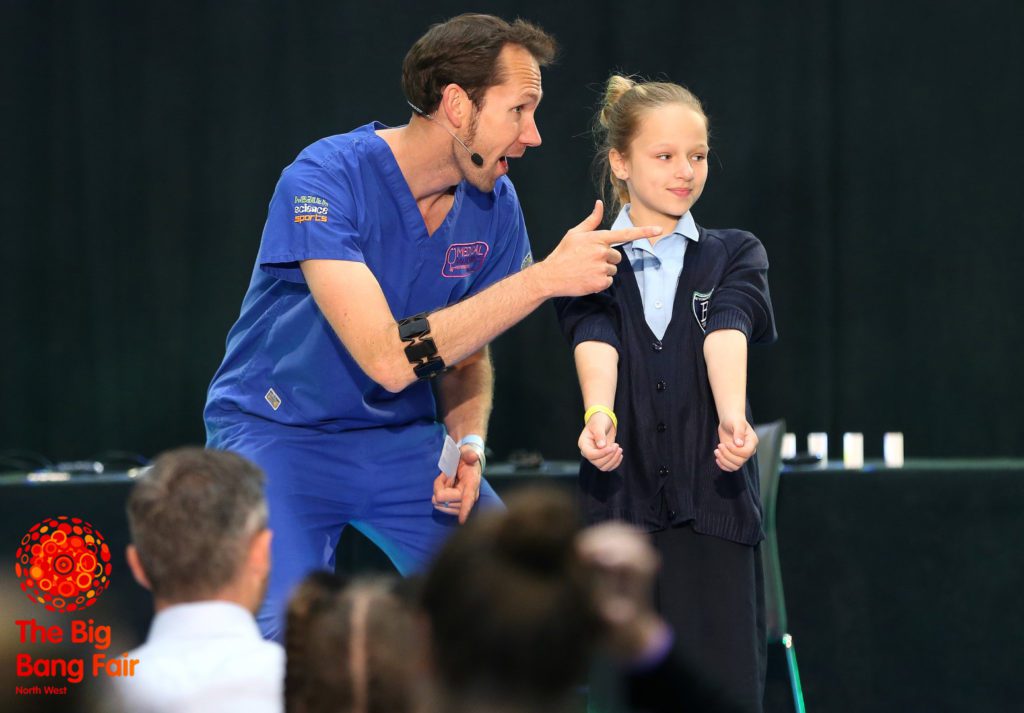 "The Big Bang North West 2017 was TOTES AMAZE!!! There was so much to do and take part in. The students were in for a real treat and you could see how much they were enjoying it and engaging with all the brilliant STEM people on their stands. We love coming to the event every year and the opportunity to inspire the next generation of medics & scientists is fantastic!" Tom Warrender, The Human Guinea Pig – ScottishPower Show Stage Performer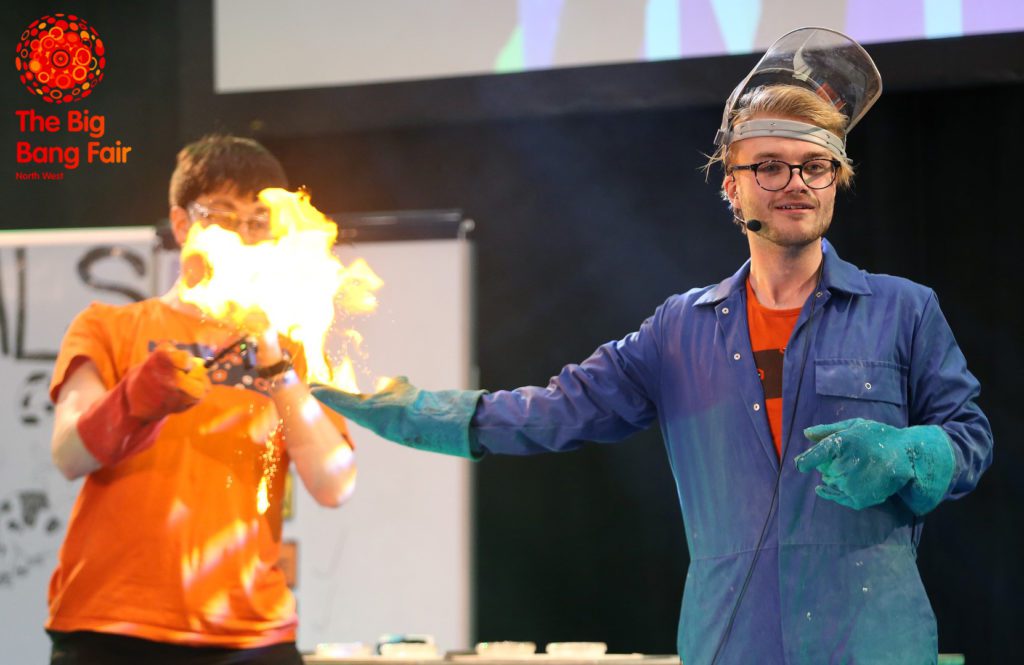 The Museum of Science and Industry performed an energetic, fun and investigative science show. Attendees learned how to think scientifically and harness the energy of explosions. Visitors could  use their scientific enquiry skills to discover the fuel source of an accidental historical explosion, experience fire, a dust flame-thrower and even pop cow trumps!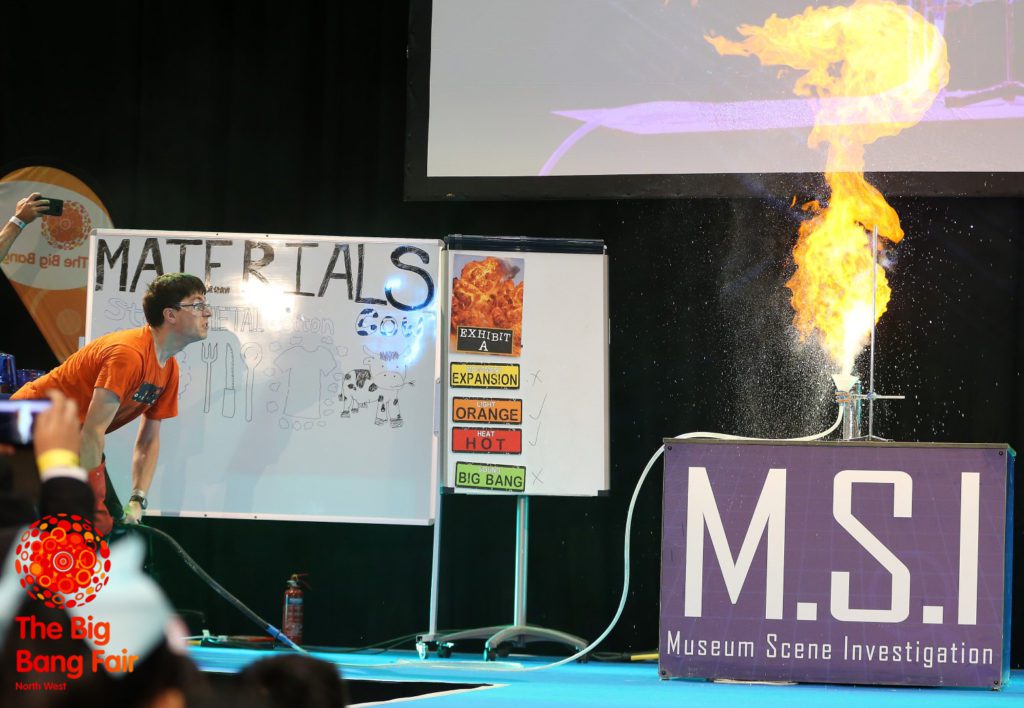 "I loved the Big Bang North West event! It was brilliant to see so many young people enjoying science and finding out new things. It was truly inspiring to see the STEM projects which students had developed – with people, ideas and enthusiasm like this, the future of science is looking up! It was really fun for us to share our Explosions Show from the Museum of Science and Industry with visitors – the audience clearly knew their science and were great at solving the mystery of the exploding railway warehouse, and they found the explosions exciting too!" Tom Gartrell, Museum of Science and Industry – ScottishPower Show Stage Performer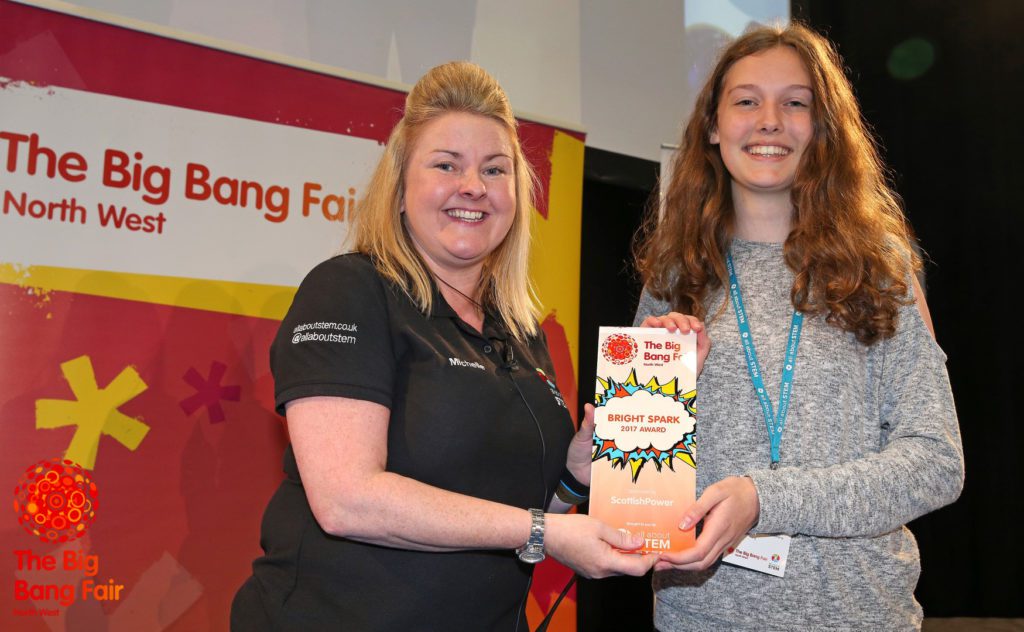 In addition to their sensational Show Stage, ScottishPower generously sponsored The Bright Spark Award as part of The Big Bang UK Young Scientists & Engineers Competition at The Big Bang North West.
You can experience the ScottishPower Show Stage for yourself! Go virtual and imagine standing on stage and being one of our STEM-sational performers – the fire, the reactions and the explosions! Click here for our immersive BBNW experience…
Relive all of the action, watch Big Bang North West 2017: The Movie!
ScottishPower offer amazing opportunities for young people via their Apprenticeship Programmes:
– Craft Apprenticeship Programme
– Power Engineering Apprenticeship
– Engineering Foundation Programme
ScottishPower is part of the Iberdrola Group, a global energy company and world leader in wind energy. They operate in the generation, transmission and distribution of electricity, energy management and supply of gas and electricity in the UK. Find out more…
The Big Bang North West 2017: A STEM-sational Success with Schools!
Headline Sponsor: AstraZeneca Inspire All at The Big Bang North West
Official Gallery: The Big Bang North West 2017
Big Bang North West 2017: The Movie!
Go Virtual with The Big Bang North West!
The Big Bang North West 2017: Your Amazing Feedback
The Big Bang UK Competition: Finalists & Award Winners!
Big Bang North West 2017: A Teacher's View

Follow All About STEM on Twitter here
Like All About STEM on Facebook
Follow The Big Bang North West on Twitter here
Like The Big Bang North West on Facebook
Images © All About STEM / Big Bang North West – Photographer: Gareth Jones
« Back To News