September 26th 2017
STEM Ambassador Laura Bonnett: 'How to always win!' Statistics Outreach Activities
Our amazing STEM Ambassador & Post-Doctoral Fellow Laura Bonnett and Dr Simon White have produced a set of brand new statistics outreach activities on behalf of the Royal Statistical Society.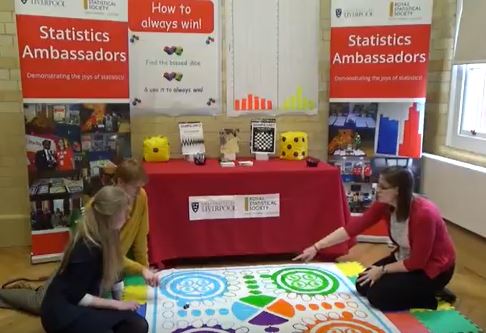 "I am a National Institute of Heath Research Post-Doctoral Fellow at the University of Liverpool.  My primary research interest involves estimating time to next event for patients with recurrent conditions such as epilepsy and asthma.  In addition, I am a STEM Ambassador, and a member of the Royal Statistical Society (RSS) Education Committee.  I have been an Ambassador since 2010 and have now undertaken 29 activities in local schools, and at science fairs such as The Big Bang North West.
As part of my role on the RSS Education Committee I am developing statistics outreach activities that can be used by anyone wishing to engage and inspire the next generation of statisticians.  To date, together with Dr Simon White from Cambridge's Biostatistics Unit, we have developed four activities."
A 2-page guidance sheet and video demonstration of each of the four fun activities can be downloaded here!
Biased Sampling
This activity introduces people to the concept of sampling – the process of collecting observations to analyse – and when it can give the 'wrong' answer
How random are you?
This activity introduces people to the concept of randomness. People often believe they can be random. However, activities like this demonstrate a failure for many people to be random.
How to always win
Probability and chance are vital concepts not just within statistics, but in real life. This activity will investigate what we mean by bias, how we can identify whether something such as a die is biased, and how we can use it to our advantage!
Stick or switch?
This activity introduces people to the concept of conditional probability via the Monty Hall problem – a brain teaser, loosely based on the American television game show Let's Make a Deal and named after its original host, Monty Hall.
STEM Ambassador Laura Bonnett: Penguin Poo! A new statistics outreach activity.
Find out more about the Royal Statistical Society
Become a STEM Ambassador
Schools: Request a STEM Ambassador to inspire your students, they're FREE!

All About STEM works on lots of exciting STEM projects. As part of the STEM Learning family, we manage the STEM Ambassador Hub in Merseyside, Cheshire and Warrington, working closely with the regional Science Learning Partnerships in Merseyside and Warrington and Cheshire and Stockport. Follow STEM Ambassador Hub Merseyside & Cheshire on Twitter .
Follow All About STEM on Twitter here
Like All About STEM on Facebook
« Back To News