October 05th 2017
Teachers: Apply for a VEX IQ Challenge Grant!
Do you want to get involved in one of the world's fastest growing robotics competitions?
Do you want to work with local industry and create long lasting partnerships?
Do you want all of the kit you need for FREE after receiving expert training?
If the answer to all of these questions is yes, then you need to read on!
STEM Learning has partnered with VEX Robotics to offer 195 VEX IQ Challenge grants across the UK!
There are 15 grants available to schools in the Liverpool area to enable them to engage with the VEX Robotics programme and to set up a new regional event here in the Liverpool City Region.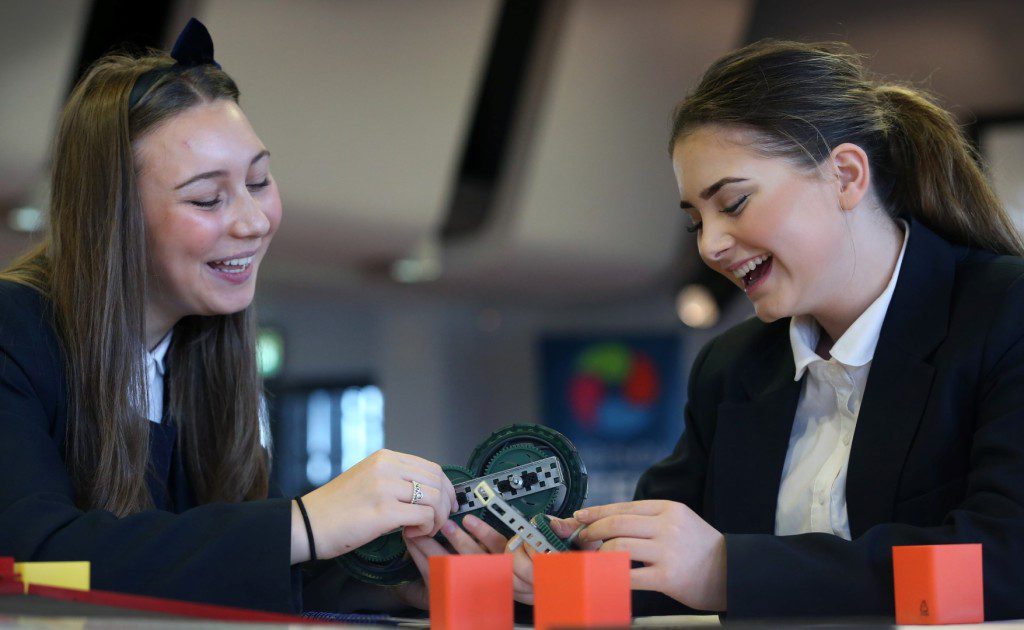 The VEX IQ Challenge provides students aged 8 through to 14 with exciting, open-ended robotics challenges that enhance STEM skills through teamwork, critical thinking and hands-on learning. Using the VEX IQ kit, the teams have to research, design and build a robot to compete in each year's competition; an engineering challenge in the form of a game.
The 2017 – 2018 game, VEX IQ Challenge: Ringmaster, tasks teams with collecting coloured rings from on the field and scoring them in zones or hanging from posts. Additional points are scored for releasing rings from the bonus tray; a simple challenge with deepening layers of complexity as the teams get more and more involved.
Regional events run throughout the year, all across the UK, and teams can attend as many as they wish, with the aim of qualifying though to the UK National Finals at The International Centre, Telford in March 2018. Information on the game can be found online here.
The Grant Scheme
Each successful grant recipient will receive a VEX IQ Super Kit, VEX IQ Competition Add-on Kit and access to programming software appropriate to their students – well over £400 of free kit that can be used year-after-year.
The kit, software and challenge will be introduced at a twilight training session delivered by an expert trainer from VEX Robotics and supported by STEM Learning. (STEM Ambassadors will be invited to support schools' engagement with the programme). Teams will then work towards a local competition event which will showcase the work of all involved.
How to Apply?
The commitment from the school is to:
– Register a team on the Robot Events website (The £125 fee covers entry for the season)
– Attend the regional teacher training held on Monday 13th November, 2017, 1-5pm at the Catalyst Science and Discovery Centre, Mersey Road, Widnes, Cheshire, WA8 0DF,
– Register the team as a STEM Club
– Attend at least one regional event for the next two years. There will be a regional event on Thursday 8th February (approximately 9.30am-2.30pm, TBC) at the Catalyst Science and Discovery Centre, Mersey Road, Widnes, Cheshire, WA8 0DF.
If you have any questions on the grants then please direct them to [email protected]
The Big Bang North West 2017: A STEM-sational Success with Schools!
Headline Sponsor: AstraZeneca Inspire All at The Big Bang North West
Official Gallery: The Big Bang North West 2017
Big Bang North West 2017: The Movie!
Go Virtual with The Big Bang North West!
The Big Bang North West 2017: Your Amazing Feedback
The Big Bang UK Competition: Finalists & Award Winners!
Big Bang North West 2017: A Teacher's View

Follow All About STEM on Twitter here
Like All About STEM on Facebook
Follow The Big Bang North West on Twitter here
Like The Big Bang North West on Facebook
« Back To News