January 24th 2018
MP Calls for Government Support for Rainford High's Award-Winning Idea
Conor McGinn MP recently visited Rainford High to meet talented students who won a national award in a global health and development competition.
Four students in year 11, Zach Cunningham, Evan Cunningham, Rebecca Spencer and Katie Wilkinson came up with 'Soap & Suds' when they entered the Unilever Bright Future Programme in conjunction with All About STEM. Their concept, a bar of soap with a game inside, helps stop the spread of infectious diseases by encouraging children to wash their hands more frequently.
The Team entered their Bright Future project in the Big Bang UK Young Scientists & Engineers Competition at The Big Bang North West and won a place in the final at The Big Bang Fair in Birmingham. They then went on to enter the Youth Grand Challenges Competition and were crowned winners of the silver category!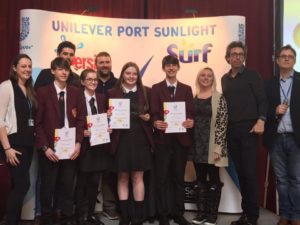 Following his visit, Conor McGinn MP contacted the Secretary of State for International Development, Rt Hon Penny Mordaunt MP, to highlight the project and ask her department to support it.
He said: "The team have done a brilliant job and are a great example of just what young people across the borough are capable of – especially when they get the right support from their school. This invention has such a fantastic purpose and it could have the ability to successfully help countries fight the spread of diseases."
The Youth Grand Challenges is a national STEM competition run by the British Science Association, that inspires young people, ages 11-19, to use science and technology to tackle global health issues.
Principal of Rainford High, Ian Young commented: "We were delighted to welcome Conor McGinn MP to the school and speak first hand with our year 11 students who have produced Soap & Suds. Everyone is really excited to hear that he has informed the secretary of state for international development of their project and we would be thrilled to see it progressed further."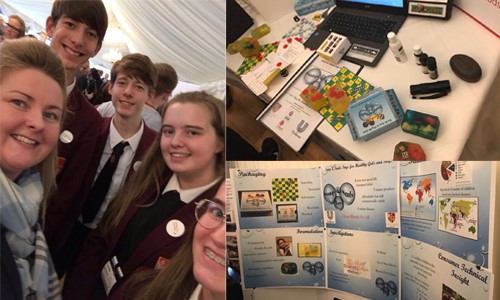 Previously he said: "The Unilever Bright Futures programme with All About STEM has proven to be an incredibly engaging way for students to learn more about the possibilities of STEM learning. As a school we're always looking for ways to inspire our pupils and help them explore various areas of the curriculum outside of the classroom. I'm confident that this experience will have helped to inform our year 10 team and hopefully offered some insight into further study and career options.
I'm incredibly proud of our winning team's innovation, hard work and determination. What's more, the challenges set throughout the day encouraged pupils to develop many skills, including teamwork, communication, leadership, creativity and presentation skills."
BOOK NOW FOR THE BIG BANG NORTH WEST 2018!
Big Bang North West 2018: AstraZeneca return as Headline Sponsor
Official Gallery: The Big Bang North West 2017
Big Bang North West 2017: The Movie!
Go Virtual with The Big Bang North West!
The Big Bang North West 2017: Your Amazing Feedback
The Big Bang UK Competition: Finalists & Award Winners!
Big Bang North West 2017: A Teacher's View

Follow All About STEM on Twitter here
Like All About STEM on Facebook
Follow The Big Bang North West on Twitter here
Like The Big Bang North West on Facebook
« Back To News