April 03rd 2018
Future Martians: MARSBalloon STEM Project!
MARSBalloon is an exciting project for UK school students to carry out Mars science experiments without having to put on a spacesuit!
For our next flight in June 2018, our balloon will carry 100 student experiments to an altitude of 30km, more than twice the height of commercial airliners, where they will be above 99% of Earth's atmosphere. Along the way, they will experience conditions very similar to the surface of Mars, including temperatures of -50°C, pressures 1/100th that of sea level and an increased dose of radiation.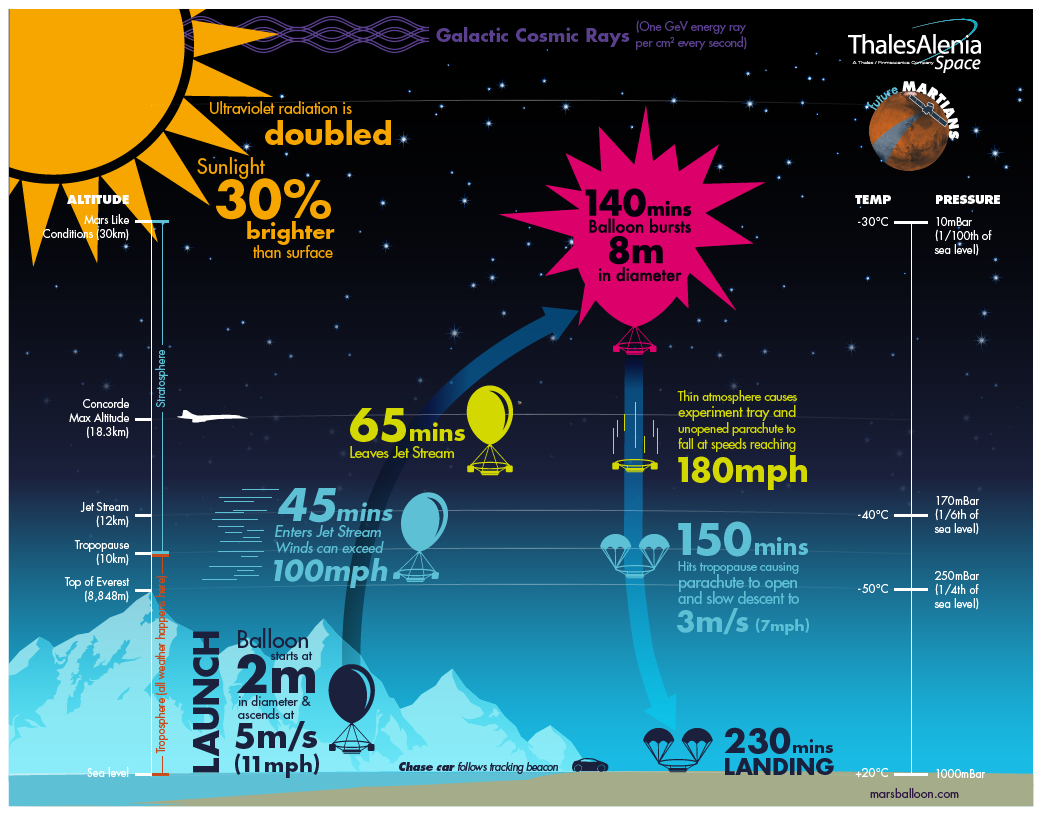 The experiment will allow students to test the response of electronics, materials, plants and even food, to the conditions similar to those of Mars, helping future explorers to prepare for this environment.
The whole flight lasts approximately four hours, and the MARSBalloon team will chase after the balloon to recover the experiments after landing, allowing them to be returned to the students for analysis. MARSBalloon is part of the Future Martians STEM programme and is supported by Thales in the UK and run by STEM ambassadors from Thales Alenia Space.
The MARSBalloon project is open to all schools in the UK, and there is no cost to take part in the apart from the cost of the experiment materials and postage.
Registrations close on 31st May 2018.
For more information including videos, lesson plans and how you can take part in the project, click here.
Follow Thales on Twitter @ThalesUK and @Thales_Alenia_S
#MARSBalloon

BOOK NOW FOR THE BIG BANG NORTH WEST 2018!
Big Bang North West 2018: AstraZeneca return as Headline Sponsor
Enter the Big Bang UK Young Scientists & Engineers Competition
Official Gallery: The Big Bang North West 2017
Big Bang North West 2017: The Movie!
Go Virtual with The Big Bang North West!
The Big Bang North West 2017: Your Amazing Feedback
The Big Bang UK Competition: Finalists & Award Winners!
Big Bang North West 2017: A Teacher's View

Follow All About STEM on Twitter here
Like All About STEM on Facebook
Follow The Big Bang North West on Twitter here
Like The Big Bang North West on Facebook
« Back To News