June 24th 2018
Big Bang North West: So many AWESOME ACTIVITIES!
If you want to know what you have to look forward to at the Big Bang North West 2018, here's an ENORMOUS list of the activities we've confirmed… so far.
Congratulations if your school has booked tickets!
Keep popping back, we have lots more to come.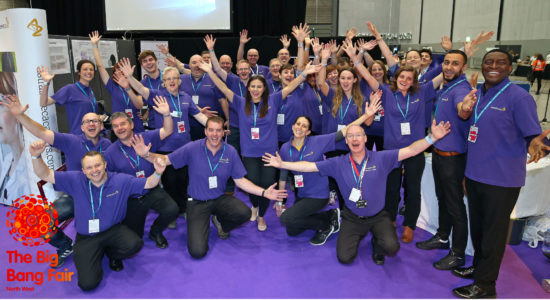 We are overjoyed to announce that AstraZeneca will be returning as our Headline Sponsor for The Big Bang North West 2018!
The AstraZeneca Team will be promoting STEM careers with fun, hands-on interactive activities applicable to Science, Technology, Engineering and Manufacturing.
Microscopy

Beat the Raptor

Identification of Virus'

Augmented Reality

Binary Coding

Thermography

Ultrasonic's

Gowning for cleanroom operations

Meet a real Scientist, Engineer, Quality Control Technician & Manufacturing Process Technician

Learn about the therapeutic areas AstraZeneca work in, talk about careers and discover how AstraZeneca develop, manufacture and deliver innovative medicines used by millions of patients worldwide.
You can even take home some our your own "augmented reality" to learn more about AstraZeneca Therapeutic areas!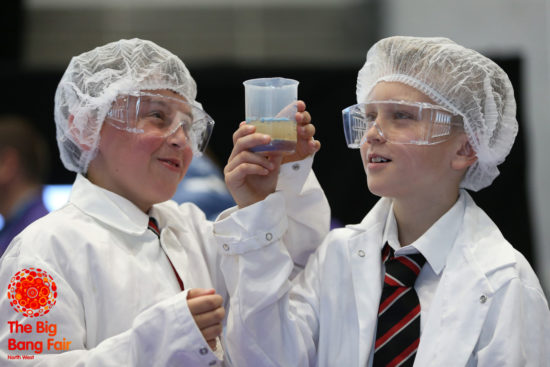 Along with The Big Bang North West, AstraZeneca also sponsor The Big Bang UK Young Scientists & Engineers Competition and the North West Young Scientist of the Year Award.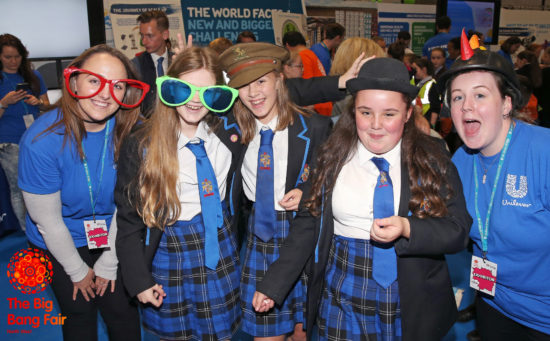 We are excited to announce that Unilever will be returning to The Big Bang North West 2018 but this time, they'll be our Diamond Sponsor!
"Unilever Port Sunlight is proud to showcase the science behind the everyday, through some exciting interactive demos from our world-class research & development experts. Be inspired by our formulation, consumer, processing & packaging activities!"
Formulation – Hair microscopy and how to make a shampoo
Consumer – Sensory deprivation game to show how senses influence our perception + other activities
Packaging – Packaging material games, augmented reality and carbon black gun game
Processing – Playdough mixer and scale up demos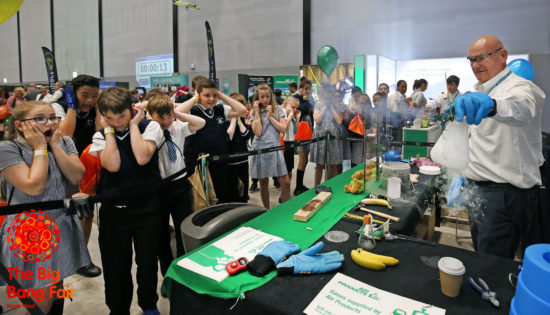 Air Products – Platinum Sponsor
Fantastic news! Air Products will be returning to The Big Bang North West for a second year as our Platinum Sponsor!
Air Products are a business dedicated to promoting STEM in schools. Their amazing activities will include a food modified atmospheric packaging display, an interactive table, liquid nitrogen demonstrations and a welding simulator!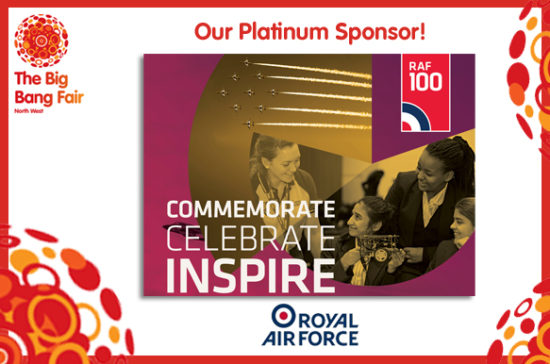 YES! The Royal Air Force have confirmed as Platinum Sponsor for The Big Bang North West 2018. We can't wait to celebrate 100 years with them!
Come and visit the Royal Air Force and meet real RAF personnel with sensational hands-on STEM activities. You can make a ring-wing glider, test your reactions on the Batak and there'll be riveting too!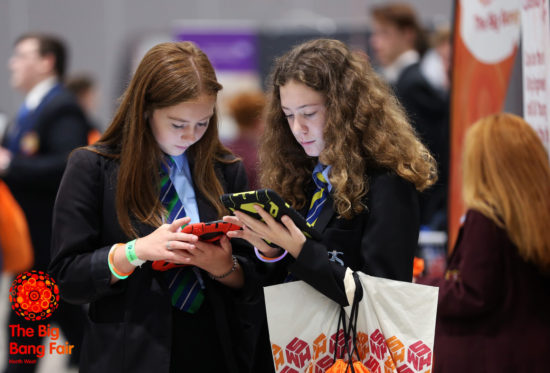 WOW! Our Platinum Sponsor Shaping Futures have an amazing line-up for their zone at The Big Bang North West 2018! Countless educational partners collaborating to bring our attendees STEM-sational activities – so exciting!
Liverpool Hope University
Problem-solving is the process of finding solutions to difficult/complex problems/issues. Algorithms is a process to be followed in problem solving. Whether the problem is simple/complex, we need to understand the problem, and come up with the sequence and the steps to solve the problem. This activity will help the participant to understand the problem and design the algorithm from scratch to move robotic buggies. Moreover, we will demonstrate how two mini robots (robotics Darwin-Mini) will play football by using a simple Android application. Everyone is welcome to join with us to play with robotic buggies and mini (football player) robots.
Edge Hill University
Come and delve into the realm of 3D design and printing. Learn to code, design or scan an object that has never existed before – and then print out and take home. You'll find out how 3D design and printing works and how it will affect all our lives in the very near future!
LIPA
Come and visit our interactive stand and try out our sound desk, have a go at lighting and find out more about what LIPA can offer you!
Liverpool John Moores University – Shaping Futures with Absolute Chemistry
Moly for A lolly. Use MolyMods to build everyday chemicals such as Caffeine or fake tan and begin to learn basics of bonding. Build a diamond How does Diamond form? Use our special model kit to build a CARBON tetrahedral – then join them with others to make a HUGE model of diamond. Glo-stick magic How can we make Glo-sticks last longer? Come and investigate how we can change the rate of reaction using temperature.
LJMU – Geography – Liverpool John Moores University Outreach Team
The Carbon Game! Come and discover more about one of the most important elements on earth. How it travels through the planets carbon cycle, why it is so important to all life on earth, and about its contribution to our biggest threat today: Climate Change!
University Centre St Helens
The science of slime and Polymer Chemistry. It oozes between your fingers when you pick it up, yet does not stick to your skin. At times it acts like a liquid, but at other times it appears to be a solid. It's SLIME! Join us as we show you how to combine two materials, to create something completely new that is both a solid and a liquid.
Riverside College & Cronton Sixth Form College
Alongside general information our staff will provide hands on experiences .Virtual welding equipment that young people can use for a real hands on experience. We are also bringing 3D printers so young people will be able to see how they work and take away some products. Our staff will be able to answer questions and enthuse participants re STEM careers.
City of Liverpool College
At the exhibition, we will be able to offer a variety of activities across ICT, and Engineering to include facial recognition software, sensor suits, virtual reality headsets, 3D printers and digital twin demo's amongst other hand-on activities.  We may also be  bringing our robot 'Pepper'.
Shaping Futures: Building Bridges School of Engineering
The University of Liverpool
The Mersey Gateway Bridge opened last autumn to great fanfare and some protest. Come along and help us to build a 5 metre long, 1:200 scale model of the Mersey Gateway Bridge. You'll be casting individual sections of the roadway (deck) in plaster of Paris whilst others build up the towers. The final challenge will be to suspend the roadway sections using one very long cable without getting yourselves in a tangle!
Wirral Met
A Van de Graaff generator is an electrostatic generator which uses a moving belt to accumulate electric charge on a hollow metal globe on the top of an insulated column, creating very high electric potentials. It produces very high voltage direct current electricity at low current levels. It was invented by American physicist Robert J. Van de Graaff in 1929. The potential difference achieved by modern Van de Graaff generators can be as much as 5 megavolts. A table top version can produce on the order of 100,000 volts and can store enough energy to produce a visible spark.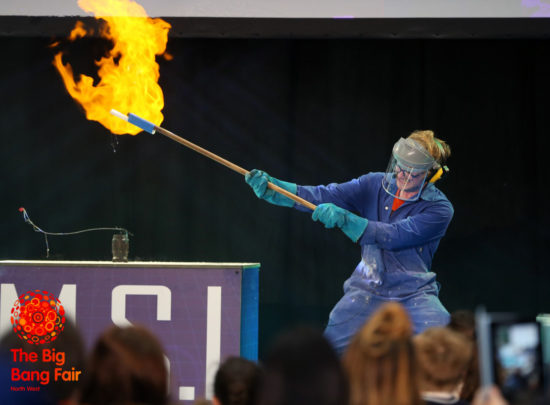 ScottishPower Sensational Show Stage!
Amazing! Since 2016, ScottishPower have made a 'big bang' of their own as our Sensational Show Stage sponsor, we are overjoyed that they are returning for their third year!
This awe-inspiring performance space is one of the highlights for our event attendees as they witness phenomenal fire demonstrations, mesmerising medical magic, astonishing activities and STEM-sational science!
We can't thank ScottishPower enough for their ongoing support and can't wait to reveal all of our amazing performers…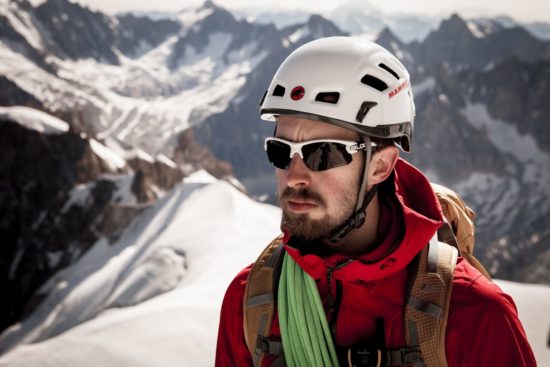 Performers:
Become a Science Adventurer with Huw James!
"Together we will take a look at the key ideas you need to survive an adventure in the outdoors. From staying warm with smart new textiles created by engineers to keep you dry, to removing microorganisms from water to make it safe to drink by using current technology also used in hospitals.
In this performance we look at the sustainability advantages of eating bugs and the nutritional values for survival, and how to make sure you're prepared for adventure! Field Scientists are some of the best adventurers, after this engaging science show perhaps you'll want to be a science adventurer too!"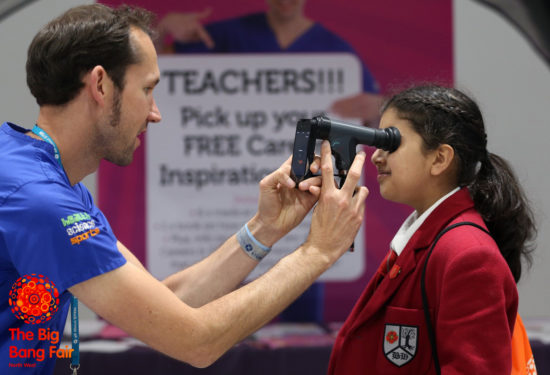 Tom Warrender – The Human Guinea Pig!
See some of the amazing medical procedures he has been through, just for the fun of it! Tom will also be looking for volunteers to become mini guinea pigs as he runs a series of demos live on stage.
Medical Mavericks will also be exhibiting on the big day! Click here to find out more…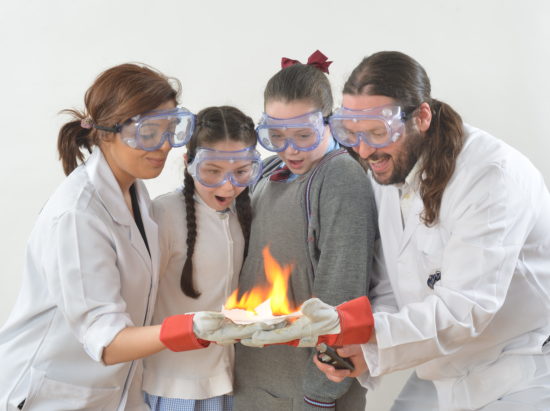 Discover some dramatic reactions in their exciting show: Spin, Pop, Boom!
Is it possible to turn water into Ribena by simply pouring it in to a new, empty glass?
How does centrifugal force help avoid water spillages on a rapidly spinning plate?
Would you like to meet two chemically-created Genies; Steaming Steve and Frothy Freda?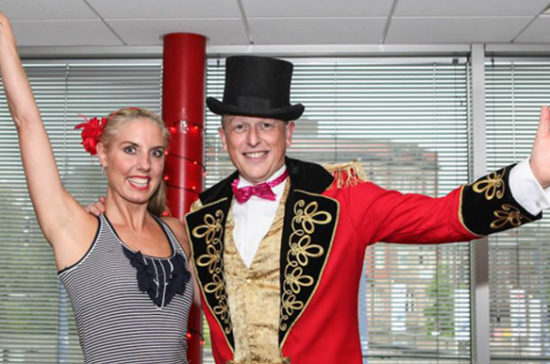 Looking for a celebration of education & innovation?
Introducing… the Digital Ringmaster!
"Andy is one of the most passionate and energetic leaders in the UK's digital and creative sector. He is Chair of BIMA Liverpool and is an exceptional and inspirational leader of the multi-million turnover innovative web application agency, Angel Solutions. Andy is especially passionate about young talent and digital opportunities... "
Visit the ScottishPower Show Stage to catch all of Andy's antics….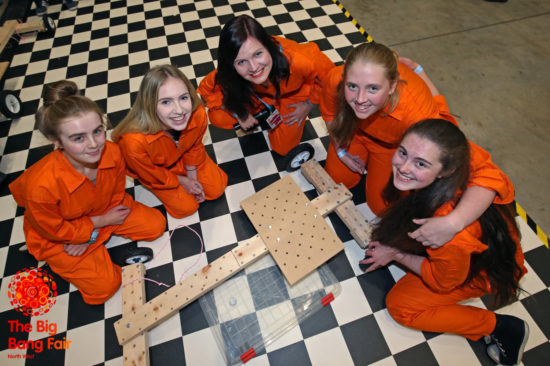 Official Media Partner – hi-impact!
hi-impact will be bringing a giant space balloon that took video footage from 25 miles above the Earth… you can experience it's flight via virtual reality – WOW! You'll also be inspired about all things media, in 2017 many of our attendees made their own videos and clips to send to hi-impact. Impressive!
hi-impact create award-winning and engaging content for some of the most prestigious clients in their respective industries. Keep an eye out for them on the big day, they'll be filming all of the action and you could be asked for an interview!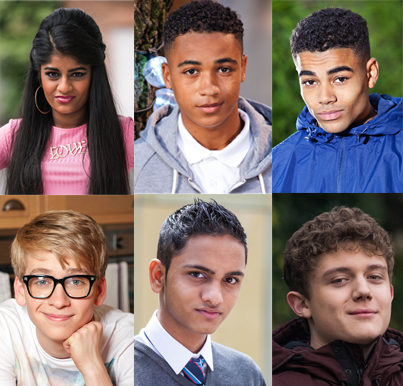 The BAFTA, Broadcast and multi Emmy Award winning Lime Pictures team will be exhibiting at The Big Bang North West… with 6 of the Hollyoaks cast!
You can learn from the best as Lime Pictures will inspire you with make-up, special effects, green-screen technology and so much more. We've had the pleasure of seeing the plans for their amazing stand and this is not to be missed! Along with discovering the magic of production, you'll get to step into Hollyoaks village (yes really!), experience a dramatic moment of your own and see the stars of the show!
Sellafield will be exhibiting and generously sponsoring our Innovation Award!
"What does it take to safety operate and decommission one of the world's most complex nuclear sites? Learn about how we safely handle radioactive material and use advanced robotics to complete our mission. See if you can overcome some of our most difficult challenges by having a go yourself!"
"We have created a unique interactive challenge – 2018 is not only a World Cup year but also the Year of the Engineer, so we wanted to bring football and robotics together for the first time!
Together with our key system partners KUKA and Autodesk, we are programming a state of the art robot so that young children can pit their wits against technology. Our goalie robot is a fun way for children to test agility, speed and accuracy – so we look forward to a battle of the next generation of robots vs the next generation of STEM experts. This is a great way to interact with advanced technology and see human and robot collaboration at its best."
"ITV is joining in this year's Big Bang North West to showcase just some of the technology which goes on behind the scenes of programmes such as Coronation Street. We want to meet the future talent of our industry and talk about why ITV is the place to be."
"We'll tell you about how the television industry is rapidly changing and why this means there are skills shortages across all sorts of roles from Broadcast Engineers to Transmission Operators, we hope The Big Bang will be a great place to show what a broad range of roles are out there for the next generation."
Knowsley Safari will be returning to exhibit at The Big Bang North West 2018 and will again be sponsoring our Protecting the Environment Award!
Visit the Knowsley Safari stand to take part in interactive activities that seek to 'unveil the science behind the safari'. Activities will introduce participants to topics such as animal identification, captive breeding programmes and animal records along with animal nutrition.
BBNW visitors will be able to hop into dock10's pop-up mini studio for a hands-on demonstration of the digital skills needed in the TV industry.
The green screen studio allows students to try a variety of TV studio roles including Autocue, Vision Mixer, Sound Supervisor, VT Play in PC, Camera Operator and Presenter!
dock10 will also have information on routes into areas of TV work and can help teachers to better understand Manchester's digital landscape.
Institution of Civil Engineers (ICE)
"Join the Institution of Civil Engineers (ICE) and our team of superheroes at the Big Bang North West to find out how civil engineers are shaping the world, transforming lives and safeguarding our futures.
Civil Engineering is a brilliant career involving important stuff such as connecting people and places by building bridges and making smart structures. Don't just take our word for it – try it for yourself with hands-on activities including Balancing Bridges and Propping Up Pisa!"
Noisy Toys are all about having fun and experimenting with sound. They make amazing (scientific) instruments and let you play with them!
"The Audio Assault Buggy is a mobile Science Busking unit loaded with strange and wonderful up-cycled sonic weaponry for you to experiment with. Come and participate in the testing of noses, ears, carrots and even dogs, or anything else that you can pick up. See if you can win the highly coveted 'Nose Test' stamp."
Statistics Ambassadors – University of Liverpool
When they're not working out new statistical methods to answer clinical questions they can be found in local schools engaging the next generation of statisticians via hands-on activities!
Here's what they'll be bringing to this year's event:
Meerkat Mix-up
'Our gang of meerkats are at Customs – only some will be passed as safe to enter. Help us use the power of statistics to work out who makes it!'

Can You Beat the Bolt?
'Discover if you are faster than Usain Bolt and other famous athletes using only a ruler and some awesome statistical know-how!'

Sociable Cards
'Statistics and magic collide in this amazing floor-based activity involving a whole pack of over-size playing cards!'
How Many Penguins?
'Come & meet our waddle of penguins and in the process learn how we can use their poo to estimate how many live in Antarctica!'

"Come say hi to the Medical Mavericks team where you can try out using some amazing medical kit. On the day we will have loads of activities from listening to your pulse with a pulse Doppler to recording an ECG from your heart and getting a print out!
You can take away loads of free posters and have a chance of winning a copy of our 1st book – Classroom to Clinic!"
Little Sandbox is a technology club for kids interested in computer programming, electronics, robotics, animation and other digital media. It's terrific for the tinkerers!
They'll be brining their Rambots to battle in the arena.
Expect coding, robotics and more… Sandbox style!
We're overjoyed to announce that Jacobs will be returning to The Big Bang North West 2018. They have so much to offer on the big day from structures to virtual reality!
Activities:
Benjamin Baker Structures Chair Challenge
Highways Route Finding Task
Ecology Quiz
BIM Interactive Works
Virtual Reality
Time-out corner (Mental Health Matters)
Visit the University of Central Lancashire stand and you'll discover EvoFIT, an awesome system for developing facial composites used by police forces and developed by one of UCLan's psychologists. There will also be additive manufacturing activities, 3D printing and more!
Catalyst & Techniquest Glyndwr Discovery Centres
Techniquest Glyndwr, in partnership with Catalyst, are hosting the national programme 'Operation Earth'. To celebrate the wonders of the amazing environmental science research being done in the UK, the Natural Environment Research Council has partnered with the UK Association of Science and Discovery Centres to deliver exciting and engaging activities for families. The show will be running at Techniquest Glyndwr until the end of July, then continuing at Catalyst later in the summer. As well as this Techniquest Glyndwr Science Communicator's will deliver live science demonstrations and hands on activities aimed to enthuse and inspire interest in the STEM subjects.
"Visitors to our stand can come and work with our 'Magic Plastic!', which is a type of thermosetting plastic and you get to make and mould all sorts of exciting objects.
You will also have the opportunity to challenge your senses using Oculus Rift Glasses– a virtual reality headset for 3D gaming! You may also wish to view the world upside down using our amazing AstroMedia Reversing Goggles!
Staff and Student Ambassadors will be available to talk to visitors about college life and the unrivalled range and combination of courses available at Priestley."
Bureau Veritas will be bringing along their specialist noise team, so pay them a visit and see what all the noise is about! There will also be a thermocamera and a 'what's in the box?' activity using an Endoscope.
Visit the ONR stand to build bridges, discover how shape can strengthen structures and make your own electricity!
UTC Healthcare Academy, Liverpool Life Sciences UTC
"We will have an interactive session with our Sim Man, with our student health team running different scenarios including CPR. There will be First Aid demonstrations, health checks, quizzes and prizes. Alongside this we will have some high tech microscopes and different things to observe and interact with."
Take control of the Nuclear Institute's awesome robot rovers!
Can you use them to navigate the nuclear landscape?
You can experience working in a nuclear environment too, you'll need a steady hand for their glovebox activity. 
Atkins will be bringing along their VR headsets to build models, they'll have interactive table activities and will be offering our visitors the chance to check out augmented reality using an iPad or phone!
"Visit our stand to try out fun examples of painted circuitry and try out the new development from one of our tenant companies, Keeno, who are developing a gamification approach to physiotherapy!"
Come along to The Big Bang North West 2018 and find out how ground breaking science can help to prevent the extinction of some of the world's most unusual animals such as the Cassowary.
Take part in some STEM-sational activities that help animals across the world!
Code Club aims to give every child the opportunity to learn to code, no matter who they are or where they come from.
Sense HAT animations – Did you know there are two Sense HATs currently running experiments on the international space station? Come and see Code Club's Sense HAT to create a Python pixel art image that they can add to our Sense HAT LED image gallery.
Human Pong – Pong is one of the oldest video games and it's a classic. Come and play this Scratch version of pong (with a difference) as you become the paddles and your quick movement keeps the opposition from scoring!
We're excited to announce that The Engineering College will be bringing a virtual welding simulator to give attendees the opportunity to test their skills (without the sparks).
There will also be Health and Safety PPE available for students (and teachers) to try on. Get your friends together and take part in a kit time-trial!
"Ever wondered how STEM is used within the Nuclear Industry? Then why not come and take a look at Wood's stand and have a go yourself!"
"Can you cause the most nuclear fission reactions and beat the high score on particle pin-ball? Or come and explore the world of remote operations with our robotics team and see if you can guide our robots over obstacles and through the mini maze. We'll be bringing Virtual Reality to the event too!"
Buckingham Group BGCL Lime Street Project
"We will be having SPI Ltd on the stand with us for the day, who will be bringing their 4D virtual model and VR head set of the model so that attendees can virtually move around the site."
"We will have a variety of BGCL staff present on the day who can explain what BGCL do, what the Lime Street Project is about and Network Rail may also be attending."
"Visit our interactive apprenticeship experience, you can try out a variety of different hands-on STEM tasks, from finding out how electricity is conducted to our tyre change challenge!"
WSP will be using VR headsets to showcase flood and structures models, they'll have an interactive mapping jigsaw and other STEMsational activities.
Cavendish Nuclear are super-keen to inspire all at this year's event. They'll be brining a virtual crane, crane construction and an 'are you contaminated' activity!
Baltic will be bringing a whole host of creative/digital businesses to exhibit on the big day including IronBird, Milky Tea, Agent Academy, Liverpool Girl Geeks, Paperwork Theatre & Baltic Triangle. Be sure to visit their stand, there'll be a plethora of awesome STEM activities!
Canal & River Trust will be bringing interactive bridge and hydraulics demonstrations and you can learn engineering skills building cranes!
How does computing and science improve our lives?
What are particle accelerators, who builds them and what are they used for?
How do we explore our Universe?
We will be showing you how we answer some of these questions using an infra red camera, 3D Printer, hands-on Particle Accelerator exhibit and our very own Pepper the Robot!"
"Every day, our people play a crucial (and often unsung) role in helping life flow smoothly in the North West. At the Big Bang North West, you'll get a unique look into some of the things that go on behind the scenes to help keep the taps flowing!"
"Take a virtual tour around one of our sites or get to grips with one of our fleet vehicles that travel across our region every day."
1. Make your own magic detector. Together we will think how to design, build circuits and laser-cut your own magic detectors, you can take these with you and use to sense something about the world and activities that are going on around you at BBNW. You will use your imagination to think of something to detect, then you will learn how to design and build a prototype detector using graphics software and then how to laser cut it on the spot to explore the event with.
2. An activity related to 'the Future World of Work' and working rights campaigns from Facts forthcoming program.
Be prepared to be amazed by explosive experiments and mind bending science demonstrations. Find out if you're a supertaster, use prism glasses to trick your brain and experience a chemical reaction igniting in your hand!
Neuro Transmit – Build a 3D printed brain

Battle of the Brains Game

Calm your mind using VR

Print a Brain using our 3D printer

Brain Boxed – Try out boxing to relieve your stress
Liverpool School of Tropical Medicine
"Attendees visiting our stand will get the chance to see a selection of gruesome parasites! They can learn about how we treat them and test their abilities to be a drug discovery scientist through a pipetting challenge!"
WSP will be using VR headsets to showcase flood and structures models, they'll have an interactive mapping jigsaw and other STEMsational activities.
NHS Health Education England North West – Medical Learning Zone
Health Education England (HEE) supports the delivery of excellent healthcare and health improvement to the patients and public of England. Working across the North West, they ensure that the workforce of today and tomorrow has the right numbers, skills, values and behaviours, at the right time and in the right place.
Cheshire Career & Engagement Hub
Take your first step into the NHS – NHS careers photo booth!
Students will have a chance to dress up in different NHS uniforms, from paramedic to scientist, from nurse to clerk and take pictures and selfies in our photo booth. There will also be an opportunity to quiz staff who work in health about their roles.
Genomics
"For younger children there will be 'colour-in chromosomes' to create. For older children, we will have DNA bracelet making and gene testing with taster strips. Also we have the genomics quiz and word-searches to win prizes, pens or treats!"
MerseyCare
"We will have a range of interactive ideas raising awareness of common health issues eg mental health problems. These may include juggling stress balloons, putting leaves on a worries tree where students hang their worries and making bunting of positive coping strategies."
"We use these activities to promote awareness of common conditions and then discuss career options in our Trust. As the Trust has become more physical health focused with the acquisition of LCH NHS Trust we will be including our new colleagues and activities around physical health too. We have previously invited student nurses to join us to talk directly to students about being a healthcare student."
North West Ambulance Service
North West ambulance Service will be providing practical activity of Basic Life Support, meet the staff, and careers information advice and guidance. Tour of an ambulance if can be accommodated at the venue.
St. Helens & Knowsley Teaching Hospitals NHS Trust, Radiology Dept.
"We will be promoting Radiography as an exciting career with visual and written information. Exhibiting a variety of diagnostic images including x-rays and other imaging modalities e.g. CT & MRI. There will be anatomical body parts including a full sized skeleton with a competition for who can label the most bones in a minute and spot the abnormality or object. There will be a selection of uniforms to try on and you can have your photo taken with 'Fred' our friendly departmental skeleton!"
Royal Liverpool & BroadGreen University Hospital Trust
"We'll have a Sim man demonstration with a forensic theme!"
Southport & Ormskirk NHS Trust
-Blood pressure equipment
-Infusion pump
-Wound Swab
-Light Box for infection control
-Pregnancy Suit
-Beer goggles
-Inspiring young people to consider career opportunities in STEM
Wirral University Teaching Hospital NHS Foundation Trust and Wirral Community NHS Foundation Trust
-Mr Bones (large 2D skeleton visual aid) – an activity designed to support participants to explore the range of professional job roles that support patients who have particular health conditions affecting the different parts of the body.
-Discussion of clinical and non-clinical roles.
-Use of IT systems to support clinical staff to teletriage – demonstration of equipment.
The Institution of Mechanical Engineers (ImechE)
"Come and try to solve the Rubik Cube puzzle faster than one of our Mindstorm robots and learn how robots can be used in industry. We'll have demonstrations of other mechanical equipment, careers advice and freebie giveaways!"
Tarmac will be bringing a giant ITAB – there'll be videos, Q&A, information on careers and more – get interactive!
"Visit our stand and discover how to extract DNA from a strawberry, you will have the chance to dress-up in real CSI/lab attire and investigate DNA profiles to work out who is the suspect! One of our DNA kits was used to establish the ancestry of Tutankhamun! Minute traces of his DNA were able to be extracted and show that his mother was in another tomb close by. WOW!"
"Come and experience the fascinating world of endocrinology in the exercise and health sciences. Visit us to measure and manipulate blood sugar levels and see how these can be changed for the better or worse by food and exercise and in both health and disease. Hands on experiments and the opportunity to talk to world leading sport scientists, make this an exciting and memorable exhibit!"
"We will be offering you the opportunity to be able to build a small model engine with some of our apprentices. This is a great opportunity as we use this activity when recruiting for apprentices. You will also get the chance to speak to Clarke Energy Apprentices and ask about their experiences…"
TITAN – North West Regional Organised Crime Unit
TITAN – North West Regional Organised Crime Unit will be exhibiting at The Big Bang North West. We have been working with TITAN to spread the word on Cyber Crime and protect students in schools. Be sure to visit their stand!
At the Big Bang North West we'll have our very own All About STEM mini-STEMmers on hand to show you the steps to making super-slime!
"Visit the Reaseheath stand to take part in a range of land based STEM activities; from driving a virtual tractor to riding Flicka, our mechanical horse, there's lots of hands on, fun activities to try out – see you there!"
Activities:
Floristry

Tractor Simulator

You have the power! Ride the Watt Bike…

Tenstar Simulation – Virtual machinery

Mechanical Horse
CCSL will be energising a Cathodic Protection system with a power supply so students can see polarity of reinforcement. Cathodic Protection is basically a way of stopping metal parts of a structure rusting. The process is very simple science!
CCSL will be demonstrating a reference electrode that monitors the reinforcement to anode mesh and ribbon which drives the current into concrete and re-establishes the passive layer to the reinforcement. We have also designed a special 'How to prevent an explosion of corrosion!' student-friendly handout.
Freyssinet's hydrodemolition specialist team Aquaforce Jetting will exhibiting a hand lance and special protective suit that operatives wear when they are undertaking hydrodemolition. Hydrodemolition is a process of high-pressure water jetting, used to remove concrete or coatings… witness the power via the video!
Lancaster University will be showcasing their 'Parasites in a Box' activity which has been sent across the world to educate and raise awareness of parasites and disease.
Discover what a parasite is, how they are spread, how they cause disease and current therapies.
The parasites are cuddly too!
Clatterbridge Cancer Centre & Institute of Physics
Radiotherapy treatment machine (Linac) parts

Radiotherapy immobilisation masks

Acoustic noise meter and instruments

Magnetic puzzle and ferrofluid capsule

Computer with interactive display / virtual reality
Willmott Dixon in conjunction with Hobs Studio
Visit their stand to experience the architecture and construction industries via visualisation and virtual reality!
Meet real soldiers, talk about Army careers and get hands-on with their STEM activities.
Visit their stand to discover their awesome resources – inspirational and fun!
THE BIG BANG NORTH WEST 2018!
Big Bang North West 2018: AstraZeneca return as Headline Sponsor
Official Gallery: The Big Bang North West 2017
Big Bang North West 2017: The Movie!
Go Virtual with The Big Bang North West!
The Big Bang North West 2017: Your Amazing Feedback
The Big Bang UK Competition: Finalists & Award Winners!
Big Bang North West 2017: A Teacher's View

Follow All About STEM on Twitter here
Like All About STEM on Facebook
Follow The Big Bang North West on Twitter here
Like The Big Bang North West on Facebook
« Back To News