July 30th 2018
Big Bang North West 2018: Show-stopping STEM on the ScottishPower Show Stage!
Since 2016, ScottishPower have made a 'big bang' of their own at The Big Bang North West as our sensational Show Stage Sponsor!
Their awe-inspiring performance space is one of the highlights for our event attendees as they witness phenomenal fire demonstrations, mesmerising medical magic, astonishing activities and STEM-sational science!
"We're very proud to have sponsored the Big Bang North West Show Stage as this is a fantastic event that inspires future generations to get involved in STEM. It was great to see so many young people get involved and experience STEM in a fun and engaging way." Mairi Elder, Early Careers Manager – ScottishPower.
We can't thank ScottishPower enough for their ongoing support, every performance is always standing room only – look at that crowd!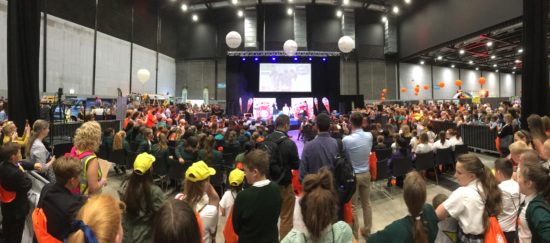 2018 ScottishPower Show Stage Performers:
Huw James – Adventure Science!
TV's Science Adventurer, Huw James, demonstrated how to survive the outdoors.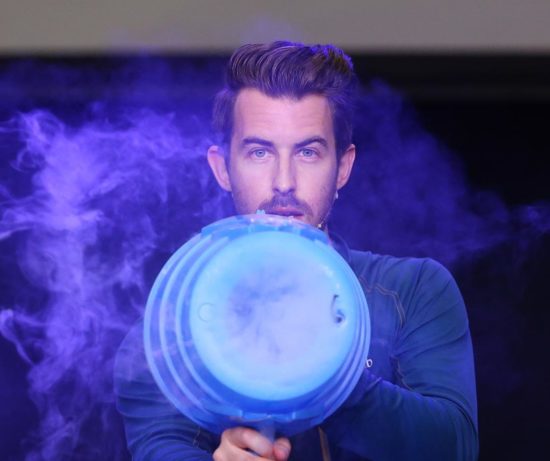 Attendees learned how to protect themselves from the elements, survival techniques and how to forage for food… there were plenty of volunteers when it came to munching on bugs!
"Big Bang North West was an amazing science festival arranged by some of the best out there! It's up there with the best in the UK (#SciComm) as far as I'm concerned. A wonderfully organised event with inspirational shows, stands and speakers and the best audience I could ask for! Llongyfarchiadau bawb! Thanks for having me."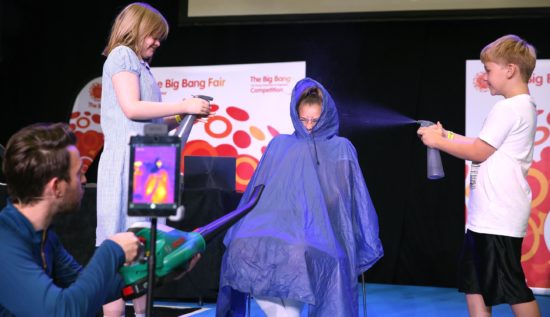 Tom Warrender – The Human Guinea Pig!
The Human Guinea Pig turned heads (and stomachs) with tales of his own medical treatments.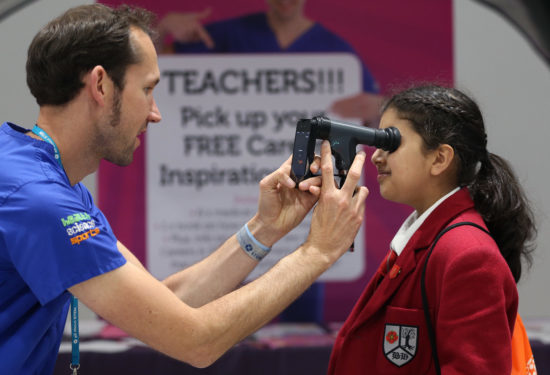 He wowed students with tricks using terrific new technologies, scanned eyeballs with iPhone's and more. If you've ever wanted to touch medical machinery in hospital but weren't allowed, with Tom, you can!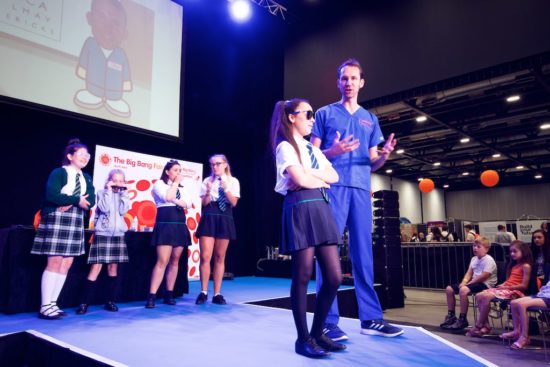 "The Big Bang North West was TOTES AMAZE!!! There was so much to do and take part in. The students were in for a real treat and you could see how much they were enjoying it and engaging with all the brilliant STEM people on their stands. We love coming to the event every year and the opportunity to inspire the next generation of medics & scientists is fantastic!"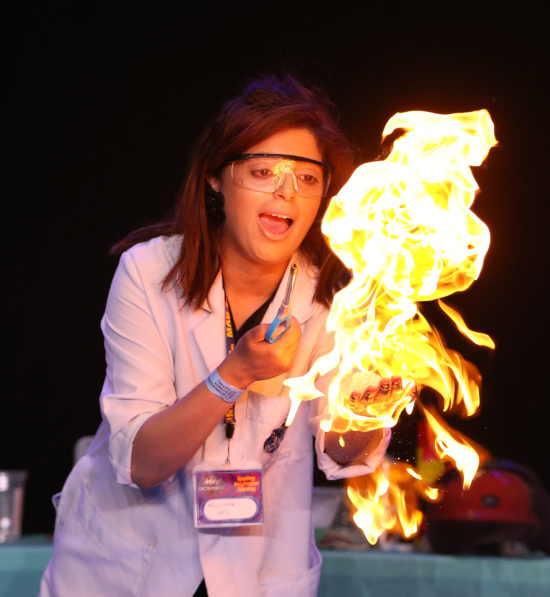 Mad Science – Spin, Pop, BOOM!
Mad Science demonstrated centrifugal force by flipping fluid and not a drop fell!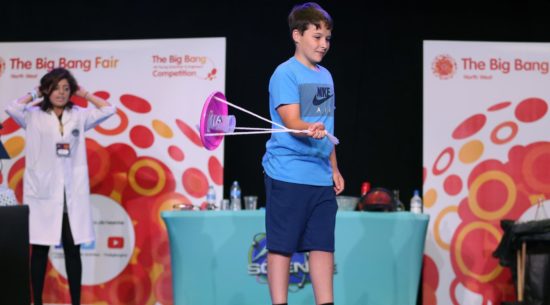 They created genies named Steaming Steve & Frothy Freda, magically turned water to Ribena and lit the arena with their explosive reactions!
"We had a BLAST performing our Spin, Pop, Boom! show at this year's Big Bang North West event! As always we loved getting the audience involved in our experiments, and showing the children that being a scientist is the coolest job on earth! We also loved meeting all of the other educators, performers and employees.
There are so many opportunities right here in the North West for careers in STEM, and The Big Bang North West was such a great showcase of the possibilities. What an inspiring day!"
Compère – The Digital Ringmaster!
Throughout the day, the awesome Andy Kent entertained and excited all-comers as they enjoyed 'The Greatest Show!'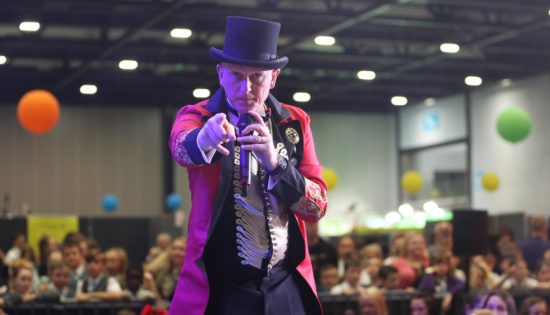 "I absolutely LOVED being a part of The Big Bang North West this year. This event just keeps getting better and better and this year was no exception! I don't need many excuses to dress up as a Ringmaster but when I was asked to be compère for the ScottishPower Show Stage, I jumped at the chance. To see the audience packed with pupils from Primary and Secondary schools alongside their teachers, all fully engaged with the amazing performers we had on stage was magical!
There was a permanent buzz around the stage and I know that pupils left feeling inspired, engaged and excited. Thank you to the wonderful team at All About STEM for making this event so special each year."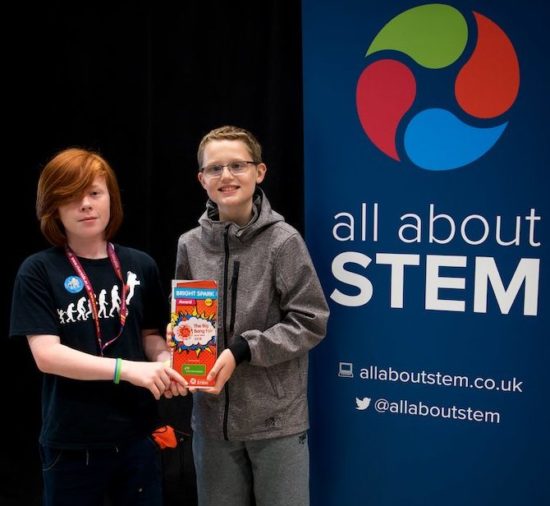 In addition to their sensational Show Stage, ScottishPower generously sponsored our Bright Spark Award as part of The Big Bang UK Young Scientists & Engineers Competition at The Big Bang North West.
Winner: Little Sandbox with Kerbatron 3000
"A very bright idea with a potential for widespread application and of definite benefit to enhance the quality of life of wheelchair users."
About this award: A love for learning and an enquiring mind are attitudes that underpin all research in STEM. This award recognises the sparks that are needed to be successful in STEM – inspiration, enthusiasm an enquiring mind, communication and desire to take their work forward.
Visit the ScottishPower website…
The Big Bang North West 2018: 7000 school children celebrate STEM!
Metro Mayor Opens Big Bang Competition Awards Ceremony – Winners Announced!
Big Bang North West & AstraZeneca celebrate 5 years of STEM inspiration for schools!
The Big Bang North West 2018: Your AMAZING Feedback!
The Big Bang North West 2018: Official Gallery
The Big Bang North West 2018: LIVE Twitter Gallery
The Big Bang North West 2018: Big Bang UK Competition Projects
The Big Bang North West 2018: Behind the Scenes
Follow All About STEM on Twitter here
Like All About STEM on Facebook
Follow The Big Bang North West on Twitter here
Like The Big Bang North West on Facebook
Photography: Gareth Jones, Chris Norman & All About STEM
Images © Big Bang North West / All About STEM
« Back To News