August 02nd 2018
All About STEM: Design, Print & Brand Service – Unilever Exhibition Stand
The Big Bang North West 2018 was another HUGE success for All About STEM as a team and for All About STEM Events, an additional branch of our ever-expanding empire. But did you know that we are also all about design?
At this year's Big Bang North West we showcased our new design, print & brand services by creating an amazing new exhibition stand for our Diamond Sponsor, Unilever.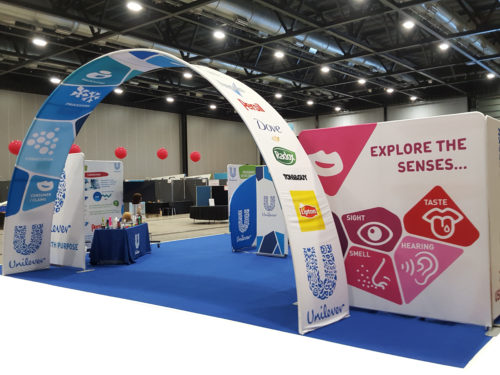 From initial design to event ready in 17 days!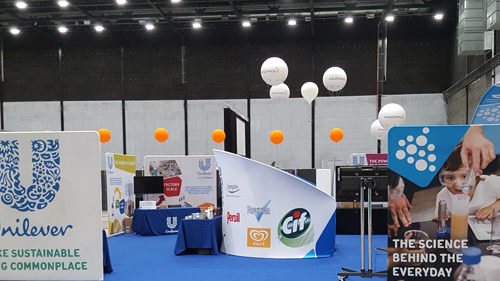 We were approached by Unilever to help them deliver an exhibition solution in a relatively small timeframe. Luckily we have our own in-house graphic designer, Kev, who has many years of experience in designing, sourcing and liaising the right suppliers for every print and exhibition job! As Unilever had very few assets available in this short timeframe, we needed to source all of their stock photography and transfer the information required using their brand guidelines onto 8 double sided fabric display stands, a 2 meter by 3 meter fabric pod and a dramatic 6 meter wide by 4 meter high fabric archway to help create Unilever's vision.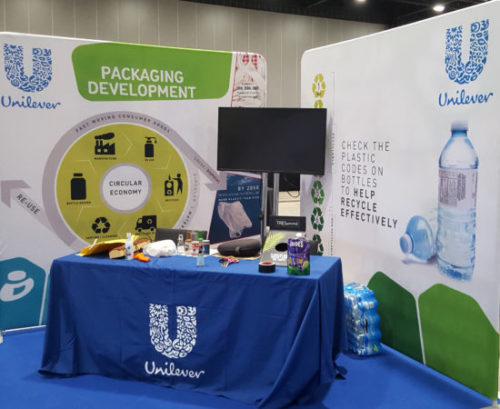 Kevin McCann, Project Manager, All About STEM
"I started designing on the 21st of June. Unilever signed off the artwork on the 27th and we went straight into production as delivery was required for the 6th July. Unfortunately, the arch display didn't arrive on time, so I took delivery of this at home on the Saturday. As a special surprise, 4 members of All About STEM built the stand on Big Bang North West Build Day ready for Unilever's arrival at The Big Bang North West! We're really happy that they're so pleased with it and it looked fantastic on the show floor."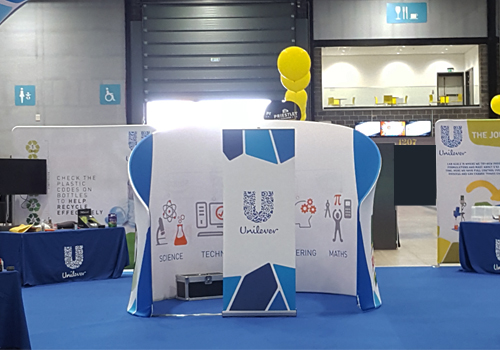 Robert Dawson – Global Product Development, Unilever
"The day was brilliant and the stand was great, very impressive and everyone applauded the design and layout which is credit to yourself, so again thanks for all your help and support with creating it."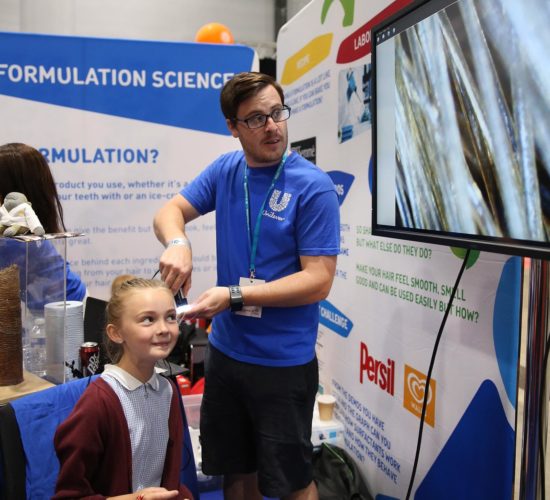 As you can see, our Big Bang North West attendees loved the new Unilever stand… and so did the Metro Mayor!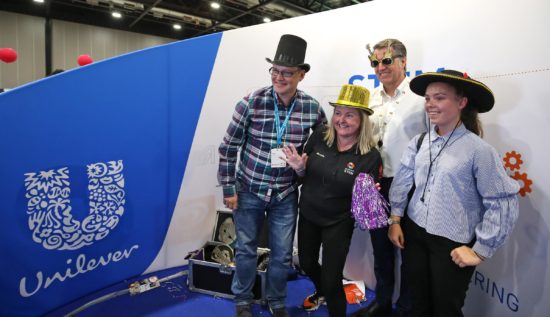 If you would like to know more about our design, print & brand services, get in touch!
Business printing, brochures, pop-ups, posters, exhibition elements, large formats, promotional materials and much, much more.
Big Bang North West 2018: STEMsational Activities from Diamond Sponsor Unilever
Finished your A-Levels? Apply for a Degree Apprenticeship with Unilever
The Big Bang North West 2018: 7000 school children celebrate STEM!
Metro Mayor Opens Big Bang Competition Awards Ceremony – Winners Announced!
Big Bang North West & AstraZeneca celebrate 5 years of STEM inspiration for schools!
The Big Bang North West 2018: Your AMAZING Feedback!
The Big Bang North West 2018: Official Gallery
The Big Bang North West 2018: LIVE Twitter Gallery
The Big Bang North West 2018: Big Bang UK Competition Projects
The Big Bang North West 2018: Behind the Scenes
Follow All About STEM on Twitter here
Like All About STEM on Facebook
Follow The Big Bang North West on Twitter here
Like The Big Bang North West on Facebook
Photography Gareth Jones & All About STEM
Images © Big Bang North West
« Back To News