September 19th 2018
CREST Discovery Day: Design a classroom of the future!
All About STEM are at The Prescot School today delivering a CREST Discovery Day.
We are bowled over by the innovative ideas and creativity as students learn, plan & design.
With that in mind, there's no better time to spotlight the Enrich Your Classroom, Discovery Award. If you're dedicated to promoting STEM (like Prescot School) and are looking for an inspiring class or club project that can be completed in a day, this is for you!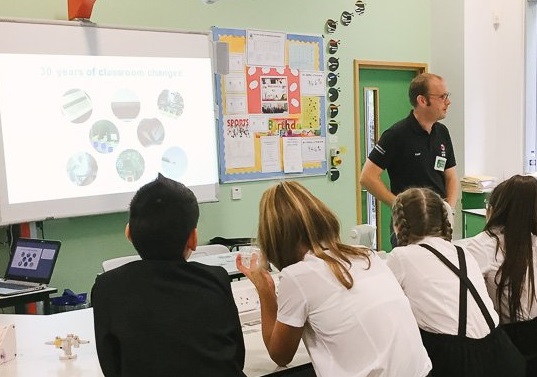 The Enrich my Classroom resource pack forms a step-by-step guide to running a Discovery Day. Students learn about coding, nanotechnology, ergonomics, magnetism & electricity and consider all options when planning their new futuristic classroom!
There are a four fantastic Discovery Awards resource packs to choose from.
WE'RE HERE TO HELP!
If you are based in Merseyside or Cheshire and would like to hold a Discovery Day in your school, contact CREST North West to find out more.
CREST Discovery Awards offer an introduction to real project work and give students the freedom to run their own investigations. They can be completed in one day, with students working together in self-managed groups.
The Challenge
Students work in groups to solve a STEM challenge, or challenges, with minimal adult intervention. Then students present their work.
The Outcome
Students develop team-work and hands-on investigative skills. After successfully completing the project, students receive a personalised certificate.
Project Submission
Samples of students' work and key information are uploaded via the online platform.
Assessment
Discovery Awards are assessed by a teacher or group leader, usually at the end of the day.
Resources
You can download ready-made Discovery Award plans from the CREST resource library.
Sign up to run a CREST Discovery Award
Discovery Awards are aimed at students age 11-14 and take approximately 5 hours to complete.
All About STEM are the North West Regional CREST Support Organisation
The Big Bang North West 2018: 7000 school children celebrate STEM!
Metro Mayor Opens Big Bang Competition Awards Ceremony – Winners Announced!
Big Bang North West & AstraZeneca celebrate 5 years of STEM inspiration for schools!
The Big Bang North West 2018: Your AMAZING Feedback!
The Big Bang North West 2018: Official Gallery
The Big Bang North West 2018: LIVE Twitter Gallery
The Big Bang North West 2018: Big Bang UK Competition Projects
The Big Bang North West 2018: Behind the Scenes
Follow All About STEM on Twitter here
Like All About STEM on Facebook
Follow The Big Bang North West on Twitter here
Like The Big Bang North West on Facebook
« Back To News