April 25th 2019
CREST: STEMsational Challenges from Practical Action
Did you know that Practical Action offer free STEM challenges that are
CREST award accredited? Fantastic resources & activities for school, club or home!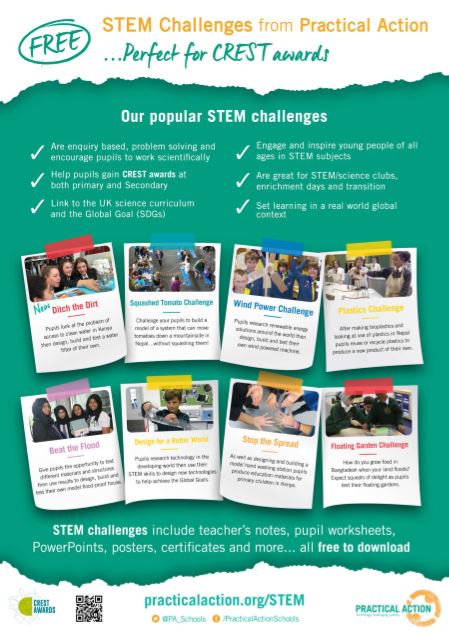 Practical Action STEM Challenges:
Are enquiry based, problem solving and encourage pupils to work scientifically
Help pupils gain CREST Awards at both Primary and Secondary
Link to the UK Science Curriculum and the Global Goal (SDGs)
Engage and inspire young people of all ages in STEM subjects
Are great for STEM Clubs, Science Clubs, enrichment days and transition
Set learning in a real world global context
Ditch the Dirt: Pupils look at the problem of access to clean water in Kenya then design, build and test a water filter of their own.
Squashed Tomato Challenge: Challenge your pupils to build a model of a system that can move tomatoes down a mountainside in Nepal… without squashing them!
Wind Power Challenge: Pupils research renewable energy solutions around the world then design, build and test their own wind powered machine.
Plastics Challenge: After making bioplastics and looking at use of plastics in Nepal, pupils reuse or recycle plastics to produce a product of their own.
Beat the Flood: Give pupils the opportunity to test different materials and structures then use results to design, build and test their own model flood-proof house.
Design for a Better World: Pupils research technology in the developing world then use their STEM skills to design new technologies to help achieve Global Goals.
Stop the Spread: As well as designing and building a model hand washing station, pupils produce education materials for primary children in Kenya.
Floating Garden Challenge: How do you grow food in Bangladesh when your land floods? Expect squeals of delight as pupils test their own floating gardens.
STEM Challenges include teacher's notes, pupil worksheets, PowerPoints, posters, certificates and more… all FREE to download!
Visit the Practical Action website
More Practical Action CREST Awards resources
Live in the North West? Find out more about CREST Awards…
The Big Bang North West 2019: FULLY BOOKED!
Big Bang North West: New Headline Sponsor – Unilever!
Metro Mayor Opens Big Bang Competition Awards Ceremony 2018
The Big Bang North West 2018: Your AMAZING Feedback!
The Big Bang North West 2018: Official Gallery
The Big Bang North West 2018: Big Bang UK Competition Project
Follow All About STEM on Twitter here
Like All About STEM on Facebook
Follow The Big Bang North West on Twitter here
Like The Big Bang North West on Facebook
« Back To News