June 24th 2019
Big Bang North West 2019: Amazing Big Bang UK Competition Projects!
The regional heat for the Big Bang UK Young Scientists & Engineers Competition takes place at The Big Bang North West 2019 and we have been overwhelmed by the quality of pupil projects we've received. Incredible innovation!
The Big Bang UK Young Scientists & Engineers Competition is a national competition for young people to showcase their impressive science, technology, engineering and maths (STEM) projects and to reward and recognise their achievements.
In addition to a place in the National Finals at The Big Bang Fair in Birmingham, all have the opportunity to win one of our prestigious sponsor awards.
We're glad we're not the judges, they're going to have an extremely difficult job this year!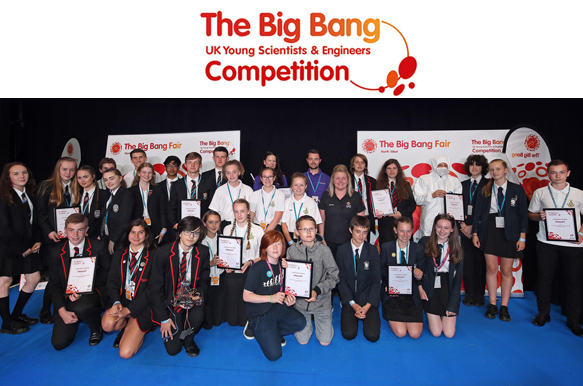 Our 2019 projects are…
ALL SAINTS CATHOLIC HIGH SCHOOL
Positive Confirmation of Audible Click When Assembling Connections

BIRKENHEAD SCHOOL
Hydration of the Nation – Why the Complication?

BROUGHTON HALL CATHOLIC HIGH SCHOOL
Versatyre
ELLESMERE PORT CHURCH OF ENGLAND COLLEGE
Reducing water usage when washing hands

GREAT SANKEY HIGH SCHOOL
Runs like clockwork
LIVERPOOL COLLEGE
Glow Up
LIVERPOOL LIFE SCIENCES UTC
Augmented Reality Sandbox
Building Blocks to the Future
Finding the energy in plastics
Graphite-Aluminium Battery
Hydro – Filtricity
Panurge
Student-built Spectrophotometer
The Clinical Applications to 3D Printing with a Transfemoral Prosthetic
What poisons the fish, poisons you too

MARY WEBB SCHOOL AND SCIENCE COLLEGE
Fitbit verses Pedometer
How do silicone-based primers effect the appearance of your foundation and should we be using them?
How does the use of mobile devices affect us?
Making plastic from potatoes
MILLOM SCHOOL
Autism Friendly Sensory Unit
Would Ancient Technology work for earthquake suppression in modern day disasters
PENKETH HIGH SCHOOL
Have the moon landings 50 years ago made a difference to us?
Have the moon landings 50 years ago made a difference to us? (B)

PRENTON HIGH SCHOOL FOR GIRLS
Ethical Shampoo
SANDBACH HIGH SCHOOL AND SIXTH FORM COLLEGE
Bio Gum
Eating Aid Tray for the Visually Impaired
Mask-Your-Aid
Modular Hospitals
Refugee Relief
SimpleText

ST JOHN PLESSINGTON CATHOLIC COLLEGE
Can axolotl slime fight disease?
Innovative ways to save the animals!

THE MOSSLANDS SCHOOL
"Olar" – a plastic free sustainable moisturizer

THE SUTTON ACADEMY
Interactive Biology
WADE DEACON HIGH SCHOOL
Aquaponics Future food challenge – Aquagrowth
WOODCHURCH HIGH SCHOOL
Aquaponics- Food sMiles
Unilever Bio Bubble
Good luck to all of our entrants, we can't wait to see you all at The Big Bang North West 2019!
Enter the Big Bang UK Young Scientists & Engineers Competition
The Big Bang North West 2019 is going to be our BIGGEST & best event to date!
We're sorry, due to popular demand BBNW is now FULLY BOOKED but we are still open for Big Bang UK competition entrants.
The Big Bang North West 2019: FULLY BOOKED!
Big Bang North West: New Headline Sponsor – Unilever!
Enter The Big Bang UK Young Scientists & Engineers Competition
Metro Mayor Opens Big Bang Competition Awards Ceremony 2018
The Big Bang North West 2018: Your AMAZING Feedback!
The Big Bang North West 2018: Official Gallery
Follow All About STEM on Twitter here
Like All About STEM on Facebook
Follow The Big Bang North West on Twitter here
Like The Big Bang North West on Facebook
« Back To News